vRealize Operations Manager (commonly known as vROps) has become a true multi-cloud management tool over the last year or so.
With cloud solutions rapidly changing, it's important for VMware to keep up with this pace and ensure their cloud management solutions are able to manage and monitor the most popular cloud platforms on the market.
New features in vROps 8.1
Whether you are looking to use the on-premises version or the new SaaS option, you'll benefit from some great new features with 8.1.
This is technically a minor release, so we're not looking at a feature-packed update (See the post on what's new in 8.0)  but there are some great usability enhancements and support for more cloud platforms:
Continuous Performance Optimization
Integration between vRealize Automation Cloud & vRealize Operations Cloud
Capacity & Cost Management
Rate card-based pricing for vRealize Automation 8.1 managed VMs
Enhanced public cloud costing via CloudHealth
Improved VMware Cloud on AWS assessment
vVol Support
App Aware Intelligent Remediation
Full support for the next release of vSphere (Announced later today) with Kubernetes
Native support for VMware Cloud on AWS – Including NSX-T support and new dashboards
Google Cloud Platform (GCP) Support in addition to AWS and Azure
Integration between vRealize Operations Cloud & vRealize Log Insight Cloud
Network-aware troubleshooting with integration with vRealize Network Insight
Slack Integration
Physical OS Monitoring with vRealize Operations Cloud
New management packs for VxRail, AWS, SDDC & SNMP
Compliance & Configuration
A refresh of the compliance packs for DISA and CIS
Platform Enhancements
Simplified Alert Creation, Dashboard Management
New summary pages and consistent navigation
A redesigned vSphere Optimization Assessment (VOA)
Diving Deeper into the new Features
With the list of updates out of the way, let's dive a little deeper into some of the flagship changes in Operations Manager 8.1 :
vRealize Operations Cloud
vROps has always been available as a traditional on-premises option.
VMware has been working with large customers in BETA on the new cloud/SaaS flavour of vROps since last year. After almost 100 thousand Virtual Machines and dozens of customers testing the system, it's finally available to the public today.
I always mention and/or demo the power of vROps to all my clients. There hasn't been one client who hasn't wanted the solution but some are unable to put up the CAPEX or invest time in the deployment and management of the platform. These barriers to entry have left those who love the product, without it for some time. This is why vRealize Operations Cloud (SaaS) is a most welcomed vROps offering.
The option to subscribe to vRealize Operations Cloud is available via the VMware Cloud Service portal (as is every VMware Cloud solution, so be sure to have a look around)
As you would expect, the Cloud version of vROps has native integration with other VMware cloud services such as:
vRealize Automation Cloud
vRealize Log Insight Cloud
VMware Cloud on AWS
Skyline Advisor
If you are already using vRealize Automation Cloud, you can import your Cloud Accounts directly into vRealize Operations Cloud.
The cloud offering has the same user interface & feature set as on-premises. However, don't be surprised (as with VMware Cloud on AWS) if new features show up in the cloud version before the on-premises version in the future.
vSphere with Kubernetes
VMware has been very vocal about Kubernetes over the last year or so. With the industry starting to adopt containers, we need a management pane for those workloads alongside traditional Virtual Machines, because those are not going away anytime soon.
So vROps 8.1 gives you the same in-depth monitoring and management of Kubernetes as you get now with Virtual Machines. This includes all the traditional tools such as:
Onboarding and discovery
Continuous Performance Optimization
Capacity & Cost Optimization
Monitoring and Troubleshooting
Configuration & Compliance Management
With this existing functionality extending to Kubernetes clusters, there are new Kubernetes style object types and properties available in vROps. This means all existing views and features in vROps will be able to reflect Kubernetes too:
Some of the key features here include:
Kubernetes Auto-Discovery of Supervisor Cluster, Namespaces,PODs and Tanzu Kubernetes Clusters
New summary pages for monitoring Performance, Capacity and Utilization of Kubernetes
Capacity forecasting to show bottlenecks for pods and supervisor clusters
Out of the box Dashboards, Reports, Views and Alerts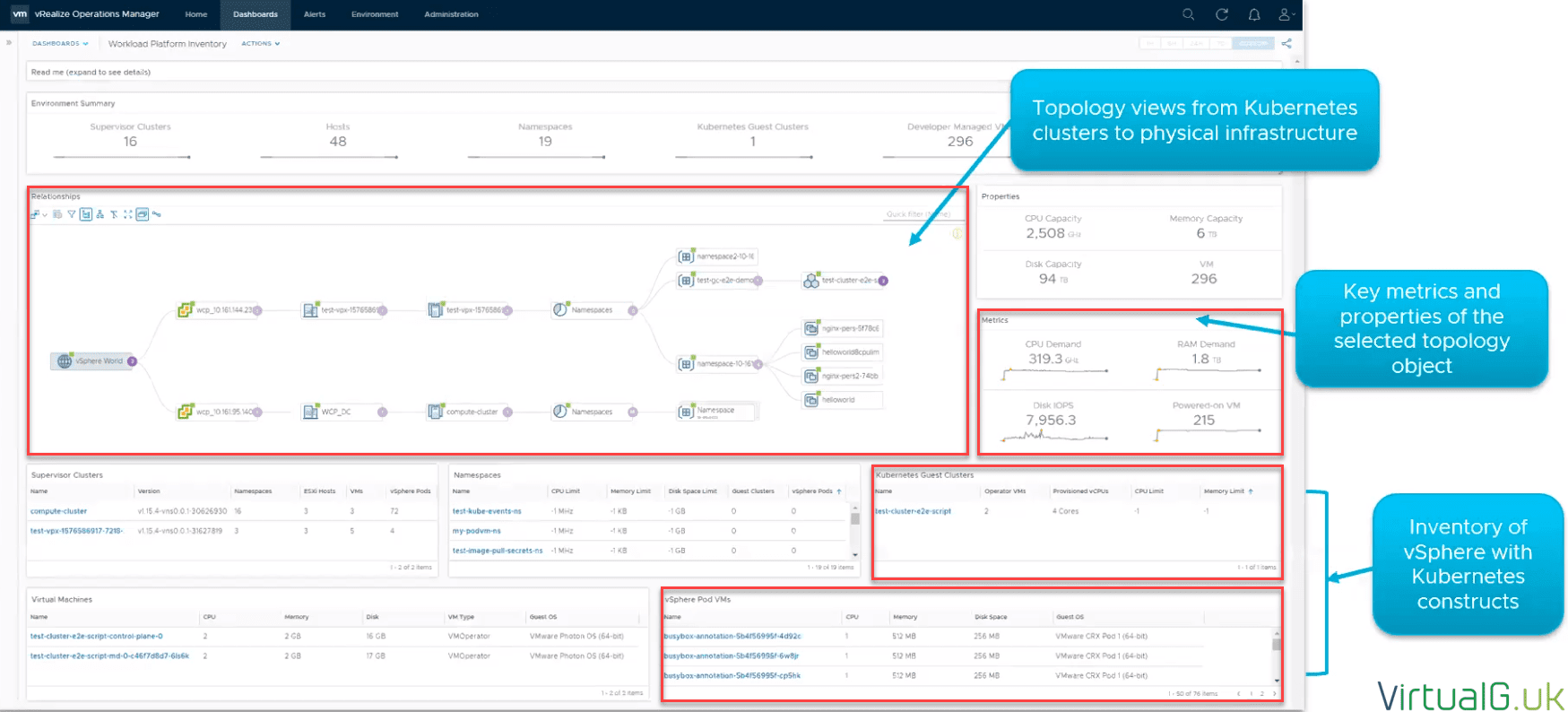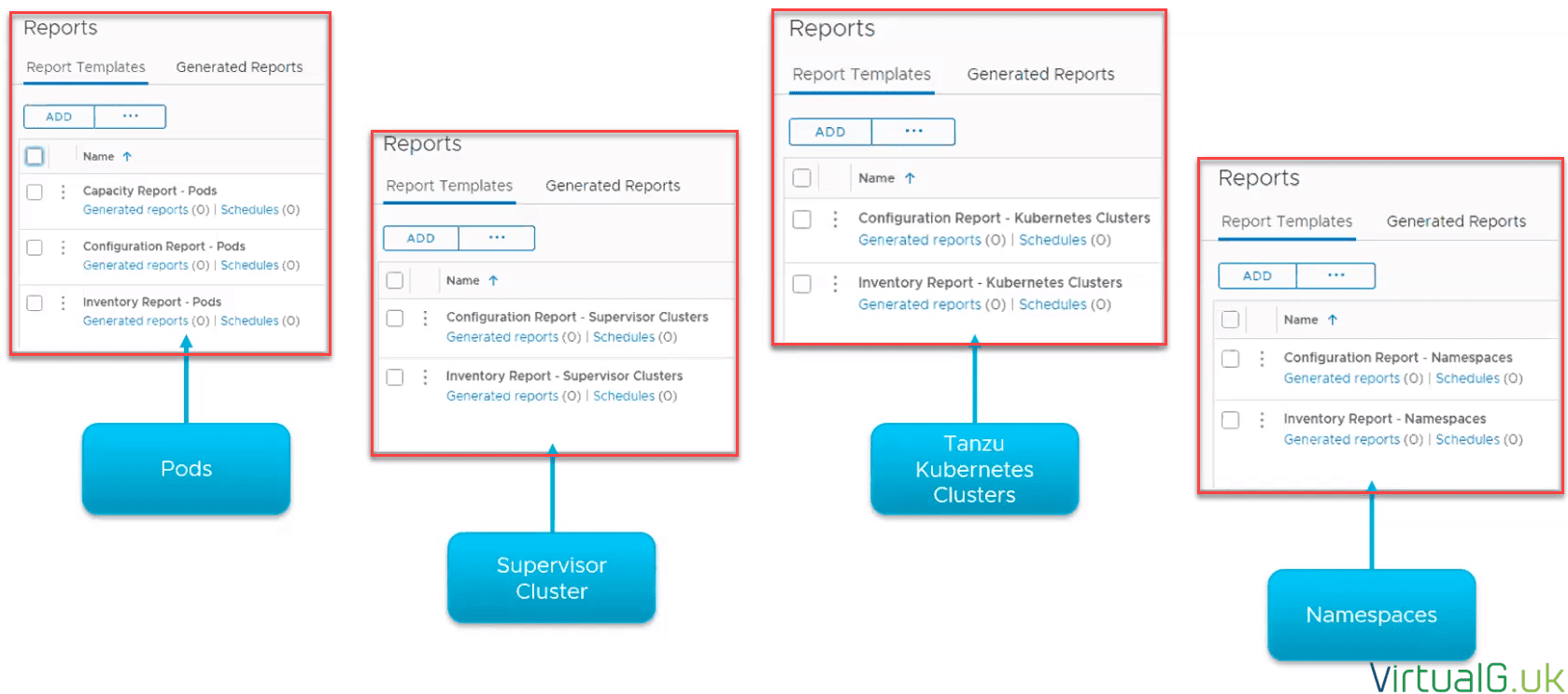 Multi-Cloud Monitoring
Personally, I think vROps has been a true Cloud monitoring tool since around the 7.5 release (and more so in the 8.x versions)
As of vRealize Operations 8.1, VMware has doubled down and improved the cloud management and monitoring part of its product further. vROps 8.1 now includes:
Customised dashboards specifically for VMware Cloud on AWS
Monitoring KPIs for NSX Edge Routers
Tracking usage and performance of VMConAWS Management machines (NSX Edges, Controllers and vCenter Server)
All the usual vSphere metrics which are available on-premises are also available to manage and monitor your VMware Cloud on AWS SDDCs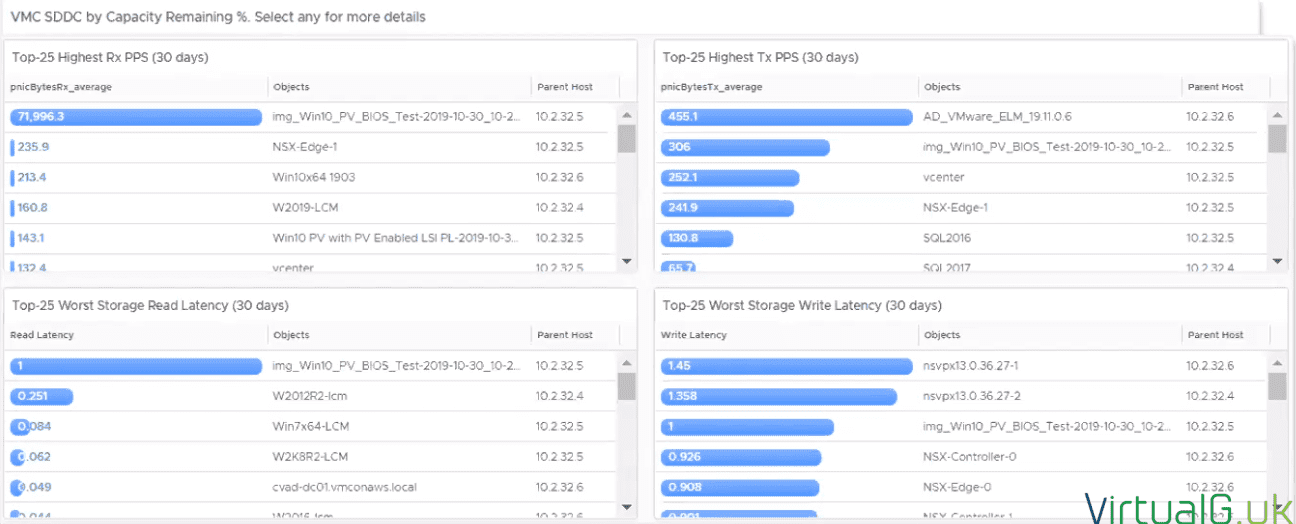 VMware Cloud on AWS
VMConAWS Cost Management
With vRealize Operations Manager 8.1, we can now import our bill to visually display within dashboards. This is incredibly useful for analyzing your billing data in several ways, using native vROps widgets.
Cloud billing has been a problem for some time due to a lack of visibility into the data leading to unexpected bills. vROps helps to combat this by bringing billing information into native vROps concepts, enabling better visibility into billing data.
Combine private, hybrid and public cloud costs into dashboards and reports
Track outstanding and year to date costs
Breakdown costs by subscription type, and purchase history
Visibility of data egress charges
VMware Cloud on AWS SDDC auto-discovery
These dashboards can be shared between your teams, to management or on a dedicated screen, just as you can with any other vROps dashboard today.
VMConAWS Networking
While NSX-T is the default networking solution for VMware Cloud on AWS, most of the new features you see in vROps 8.1 today, also with on-prem NSX-T.
NSX-T management in vROps is native, no additional management packs to install.
Simplified Cloud account integration
New Policy Manager API support
Configuration metrics for NSX-T SDDC monitoring
VMConAWS Migration Assessments
The Migration assessment page has been simplified and the results scenarios can be saved for future analysis.
Amazon AWS – New object support
The following services/objects are now supported in vROps 8.1, in addition to those already in the product:
Subnet
EFS
Elastic Beanstalk
Direct Connect Gateway
Target Group
Transit Gateway
Internet Gateway
Elastic Network Interface
EKS Cluster
Native support for Google Cloud Platform
In addition to existing support for VMware Cloud on AWS, AWS and Azure, VMware has introduced support for Google Cloud Platform (GCP) via a management pack.
In 8.1, we can currently monitor the following GCP solutions:
Compute Engine
Container Engine
Cloud Storage and Data store
Firebase
Cloud VPN
Cloud Functions
ML engine
Cloud Billing
Cloud Logging
Traffic Director
As with AWS and Azure, I wouldn't be surprised if more GCP solutions are added to vROps's Cloud monitoring abilities in future releases. vRops has been rapidly developed over the last 12 months with various releases, so by that logic, it shouldn't be too long before the next release with extended GCP monitoring capabilities.
Wrap up
Even though vRealize Operations Manager 8.1 is a "Minor" release in versioning, it's actually packed with various multi-cloud and Kubernetes features.
If you are looking for a tool to help monitor, manage, forecast, report and optimize your cloud platforms and containers, then take a look at vRealize Operations. A free on-premises evaluation is available from VMware's product page
Tags :
Cloud Management
vROps 8.1