If you haven't already check my earlier blog post on some of the new features of Update Manager 6.7: vSphere 6.7 – ESXi Upgrade Enhancements (No hardware reboots)
Finally, we are able to use Update Manager via the HTML5 UI! Not only that but the workflow is cleaner and smoother than it was in the older Flex Flash Client. This shows VMware's continues commitment to progress the HTML5 client.
Checking Compliance
Compliance in Update Manager will show as compliant if all the attached baselines to a host or cluster are already installed on the host(s)
If you attach baselines to a host or cluster and they need installing (the host is missing the patches in the baseline) then you will see the host's upgrade compliance change to "non-compliant"
Seeing "non-compliant" means you need to remediate (patch) the host with the patches in the baseline.
First things first, let's go through the steps to check compliance of hosts that we wish to upgrade.
Menu > Update Manager
You should see that there are no attached baselines and no non-compliant clusters

Select Hosts and Clusters and click the cluster you need to upgrade.
Scroll down to the Update Manager widget and inspect the compliance status. This widget is handy to quickly view Update Manager compliance
While on the cluster, select the Updates tab
You can see a summary of the hosts and their Update Manager compliance here also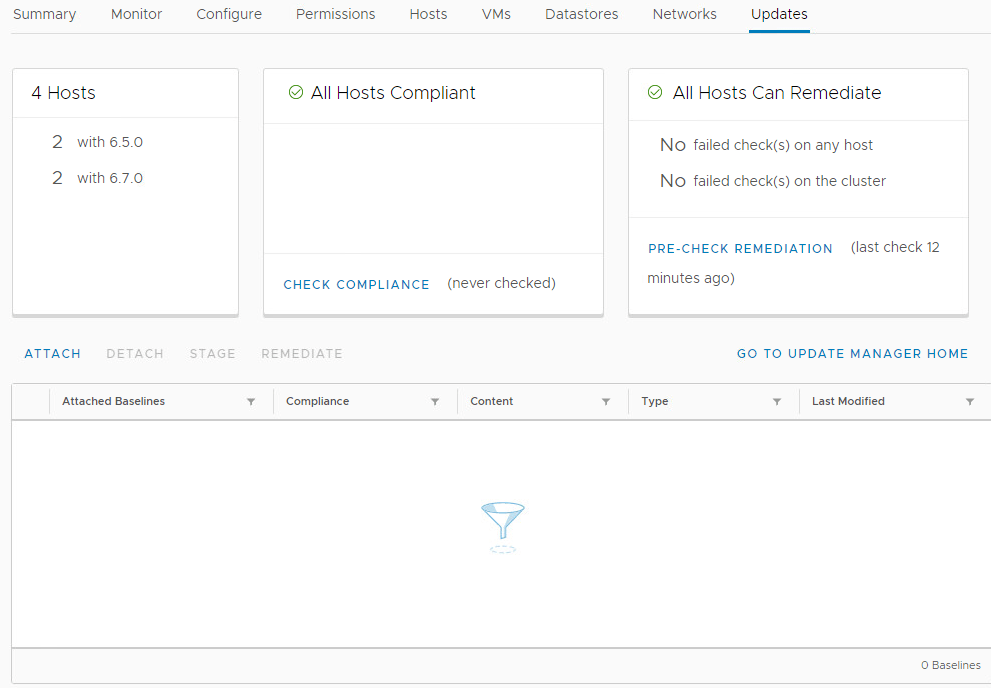 Now attach a baseline to the cluster – Select attach & choose the baseline
Select check compliance to see if any hosts are non-compliant with this baseline
In this example, 2 hosts are non-compliant and require remediation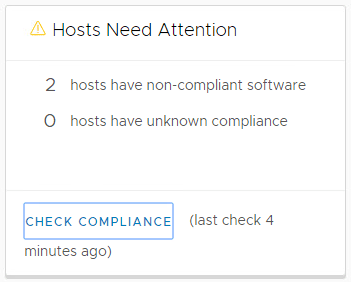 Remediation Pre-check
Before applying a baseline (remediation) you should run the remediation pre-check. This will check for cluster and Virtual Machine issues that may prevent a successful remediation.
The procedure for this is simple.
Within the HTML5 client, navigate to the cluster
Select the updates tab
Click Remediation Pre-check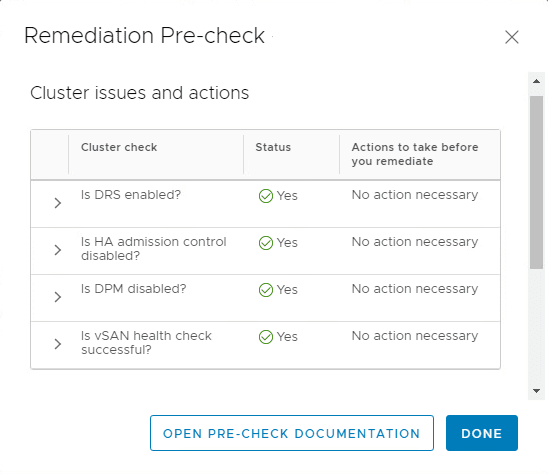 Staging and Remediation
You can now stage the patches by selecting "Stage" This will upload the patches to the hosts.
Once staging is complete, you can remediate (upgrade) the hosts in the cluster by selecting "Remediate"
Review the remediation page and configuration
Select OK to commence the remediation operations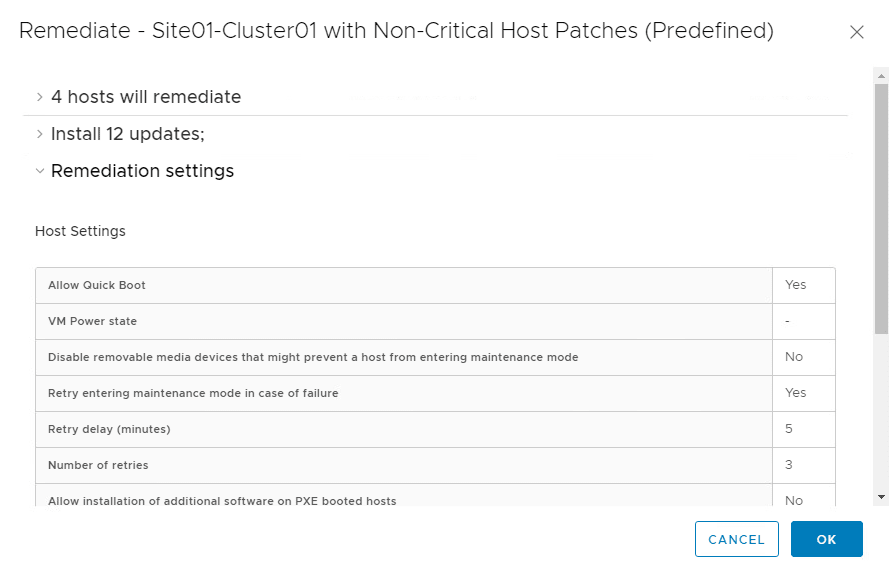 Tags :
Update Manager
VUM