Physical processors are getting more powerful & supporting more cores. This means that previous vNUMA considerations for Virtual Machines are changing. Essentially Virtual Machines with more cores is possible without breaching vNUMA boundaries.
This results in us being able to run VMs with more cores, for example, requirements for mission-critical VMs with 8 vCPUs is not uncommon. With this in mind, VMware has improved the maximum vCPUs permitted per Fault Tolerant protected VM from 4vCPUs to 8vCPUs.
Use cases for FT
Clustering applications can be complex and take time & funding to set up. FT is just a few clicks
Legacy applications that do not support native clustering
FT changes in vSphere 6.7
Support for up to 8 vCPU & 128GB vRAM per FT protected Virtual Machine (Enterprise Plus)
For Standard licensing, you are still entitled to protect VMs with 2 vCPUs
Storage failure protection. Should there be an APD (All Paths Down) event to storage, this will now trigger a failover of FT protected VMs
Legacy FT (Record and Replay / Single Processor FT) is no longer available as  of vSphere 6.7 (You cannot run or manage legacy FT VMs)
Multiple NICs for FT logging traffic remains supported.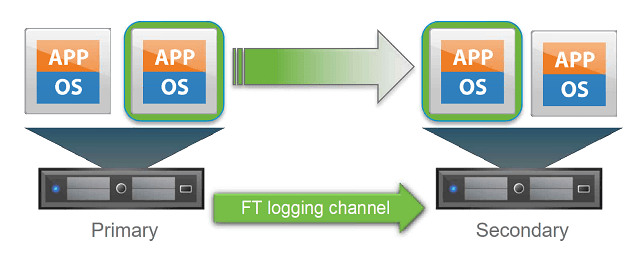 Requirements
10GB network is required to take advantage of the larger 8vCPU FT VM feature. This does not have to be a dedicated 10GB network
There are latency & host requirements, refer to the official documentation for more details
Enabling FT
Once you have met the prerequisites for FT:
Right click the VM to protect with FT & select Fault Tolerance > Enable Fault Tolerance
Select the datastore for the secondary VM disks and configuration files
Select the host that you want to register the secondary VM with. Note that Ft will not let you register the secondary VM to the same host as the primary
Review the compatibility checks in the bottom pane
Review the summary and select Finish to being the creation of the secondary FT VM and for the primary to be automatically protected
The Primary VM will have an icon changed to blue in the HTML5 client and will have it's name appended with "(primary)"
To protect the FT VM against storage failures. Select the cluster and edit the cluster settings
Navigate to HA and enable "Datastore with APD" > "Power off and restart VMs – conservative restart policy"
Navigate to the Summary tab for the protected source VM and review the Fault Tolerance section
Power on the VM to enable FT protection
The FT status will change, review the VM summary once again to ensure FT is protecting the VM
Considerations
If you trigger an APD event for testing, you might notice that APD waits for 140 seconds + a configurable time of 180 seconds before FT failover will commence. Even though this is a rather long time for FT failover to start, you will have zero data loss since all writes have already been sent to the secondary VM
Tags :
apd
fault tolerance
vSphere FT