Last week I was fortunate to watch the Commvault Data Security webinar which reminded us of new security threats, particularly from AI, and provided some insights into how we can deal with such risks to our data.
One of the biggest takeaways from the event, for me, was how we need AI tools to tackle AI-aided threats.
My takeaways from the opening @Commvault #DataProtection keynote

1. Cyberthreats aided by AI are on the rise
2. People do what it takes to tackle cyberthreats. Tools are the weakness in 90% of cases
3. To protect against AI aided threats, you need AI capable #DataSecurity tools

— Graham Barker 🚀 (@VirtualG_UK) June 7, 2023
AI-aided threats are becoming more and more common. In addition to this, the ransomware attacks which we know from just a few years ago are also evolving. In the past, a ransom would often require payment in trade for a decryption key for locked files, but nowadays over 80% of ransomware attacks go beyond a ransom payment. Many are stealing data or leaking it on the dark web. Simply put, attackers are exploiting our data in new ways.
Cyber Attacks are on the rise
Some of the more notable cyber attacks in the last few years include:
SolarWinds Supply Chain
In late 2020, one of the most significant cyber security attacks in recent history, known as the SolarWinds supply chain attack, was discovered. It targeted SolarWinds, a prominent IT management software provider, allowing hackers to compromise the software's update mechanism. As a result, malicious code was distributed to thousands of organizations, including government agencies and Fortune 500 companies. This highly sophisticated attack compromised sensitive data and allowed unauthorized access to affected networks, highlighting the vulnerability of software supply chains.
Colonial Pipeline Ransomware Attack
In May 2021, the Colonial Pipeline, which supplies fuel to a significant portion of the Eastern United States, fell victim to a ransomware attack. The attack forced the pipeline to shut down its operations, causing fuel shortages and disruption in several states. The DarkSide ransomware group claimed responsibility for the attack, exploiting a vulnerability in Colonial Pipeline's network infrastructure. This incident underscored the impact of ransomware attacks on critical infrastructure and emphasized the need for robust cyber security measures and incident response strategies.
Fortunately, Commvault have been working on solutions to tackle these issues and today we have more details on those. Commvault's solutions are able to alert in real-time regarding threats and take action, often before the threat develops into something critical for your organization. This approach can help in situations such as the Colonial pipeline attack whereby if the attack was noticed early enough, it could potentially have been stopped. Commvault's new AI-focused updates are certainly appealing in this regard but before we dive into those, for those who are unfamiliar with the company, who are Commvault?
Who are Commvault?
Commvault are an S&P 400 company and global leader in data management, focusing particularly on data security. Over the years they have established partnerships with Cisco, HP, Microsoft, AWS, IBM, and Google for deep integration of their products into data, no matter its location. Commvault's platform is marketed as an all-in-one solution for data protection, proactive data defense, and ransomware protection.
Commvault has over 100 thousand clients depending on their software for data management and data protection, over which they are protecting an impressive 3.8 exabytes of cloud data. Commvault's services are designed to help businesses:
Continuously run their business
Secure, defend, and recover data
Seize new business opportunities
Commvaults solutions are capable of protecting data regardless of its location. This includes on-prem, cloud, or hybrid environments. Commvault platforms are also available in a variety of form factors. Commvault's solutions can be purchased via software subscription, appliance, partner offerings, or software as a service through Commvault's Metallic portfolio.
New Commvault Features & Updates
It's clear that new AI-aided threats run at "machine speed", this being far faster than the reaction of any human. To battle this, we need tools that utilize AI to tackle this issue head-on.
This week we heard about how Commvault's new tools to help us in this space, protecting our data before, during, and after an attack.
Commvault Cloud Command
A single platform with a single code base and single UI, offering universal management for all Commvault offerings in an integrated dashboard that provides full telemetry and observability into key Commvault software indicators. Delivers health-at-a-glance, risk levels, security and recovery indicators, and beyond for Commvault investments from a single source.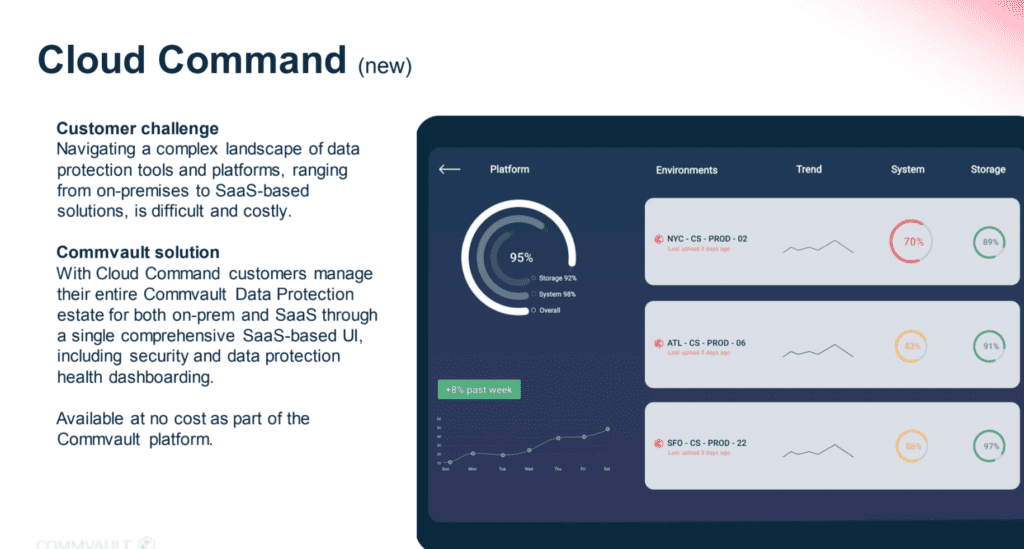 Commvault Risk Analysis
Powered by machine learning (ML), Commvault Risk Analysis quarantines and deletes sensitive data, giving organizations the ability to discover, analyze, and secure sensitive data to prevent cyber exposure and potential data exfiltration.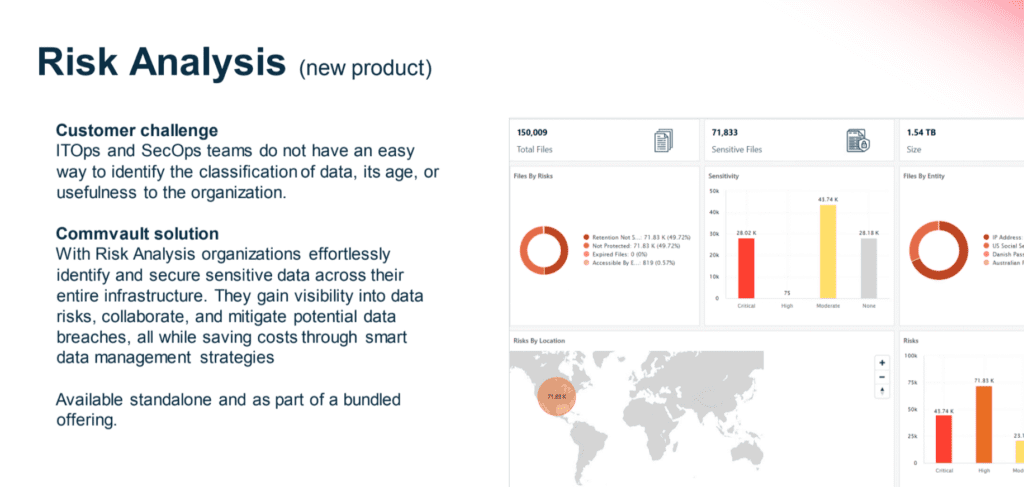 Commvault Threat Scan
Inspects backup content to identify encrypted, corrupted, or suspicious datasets. Businesses can use Threat Scan to locate and quarantine malware and threats from backup content, and ensure clean recoveries and prevent reinfection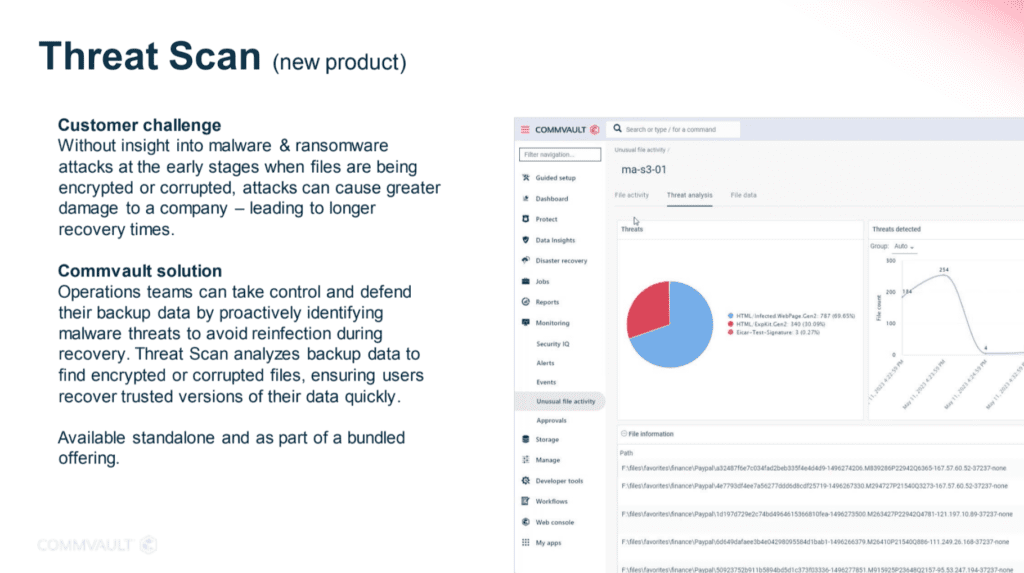 Commvault Auto Recovery
Cyber analysis tool that tests recovery readiness at scale and provides forensic analysis to determine validated and sanitized points of recovery and prevent future incidents. Allows organizations to easily and securely recover workloads at scale from cyber-attacks with minimal data loss and downtime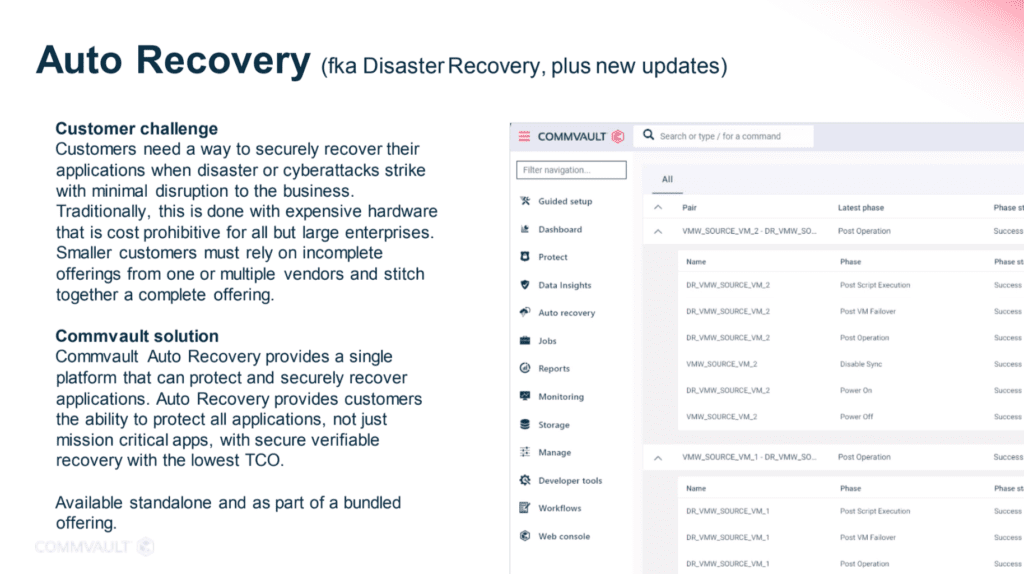 ThreatWise Advisor
Delivers integrated logic into Commvault backup environments to intelligently recommend decoy placement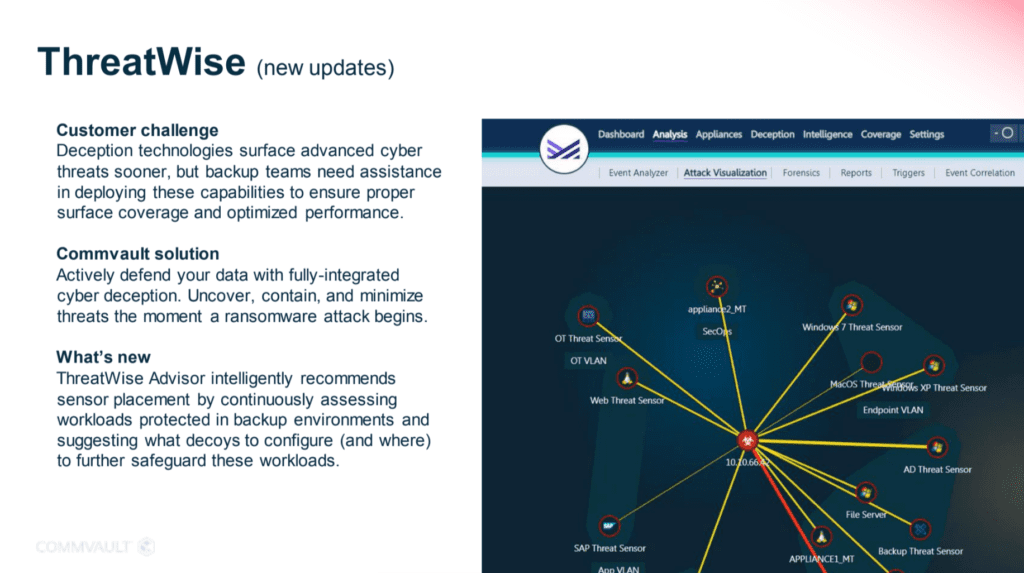 Ecosystem integrations
Protecting the most workloads requires strong technology and engineering partnerships. To that end, Commvault also announced it has collaborated with CyberArk and Microsoft to integrate Commvault's technology with their respective, industry-leading security platforms. By expanding its security ecosystem, Commvault is helping organizations enhance their security posture through automated incident response, better collaboration, and deeper insights into the threat landscape.
Further reading
To find out more about Commvault's offerings, visit the companies website here
Alternatively, you can find detail on each of the updates below:
Cyber threats are getting smarter and faster – and they're inevitable. Our new capabilities are designed to secure, defend, and #recover your #data faster and better than ever before.

If you missed our launch event, watch it here on demand to learn more- https://t.co/e9YntrGpHz pic.twitter.com/J6ND3YGDNB

— Commvault (@Commvault) June 14, 2023
Tags :
Commvault
DataProtection
DataSecurity