Commvault and Oracle Partner to Deliver Metallic® Data Management as a Service (DMaaS) on Oracle Cloud Infrastructure to Accelerate Enterprise Hybrid Cloud Adoption.
On June 29, 2022 Commvault announced its latest partnership with Oracle, enabling the Metallic DMaaS on Oracle Cloud.
Commvault & Oracle Partnership
Oracle and Commvault share over 3000 customers, and both the number of joint customers and the amount of data Commvault are protecting continue to grow every year.
Commvault has been an Oracle partner for quite some time, enabling the protection of traditional Oracle Data for many years. However, with Oracle's Cloud offerings growing in popularity every year, Commvault has added support to Oracle Cloud to protect those workloads too.
In 2019 Commvault released Metallic, a Software as a Service (SaaS) solution to provide Data Management as a Service (DMaaS) to Cloud customers. This allowed customers to use a subscription model to protect data both on-prem and on certain cloud platforms. This new partnership with Oracle, extends this capability to Oracle Cloud.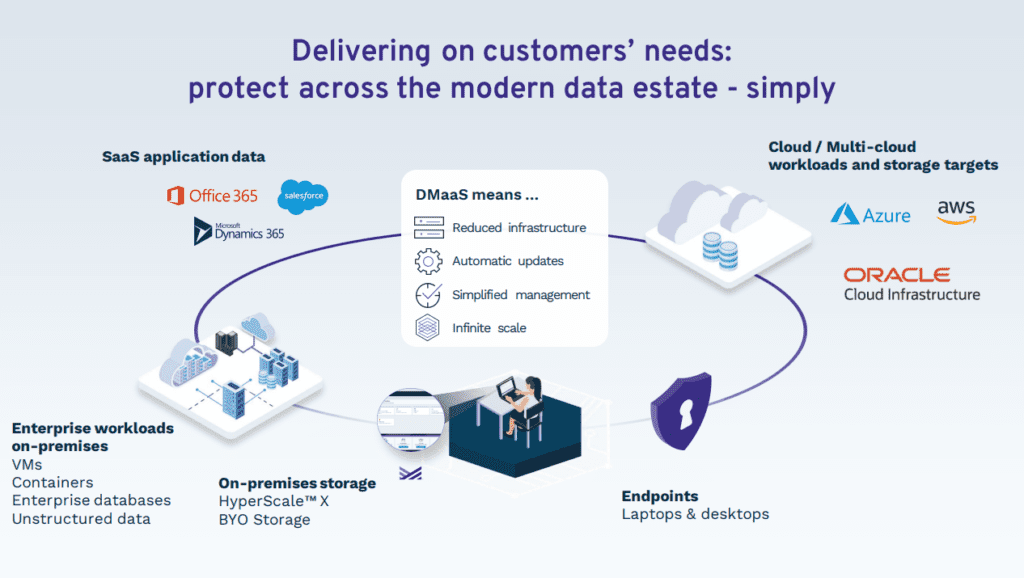 What is Metallic for OCI?
The Metallic solution, offered as a SaaS solution, enables data management and protection for workloads running on the Oracle Cloud Infrastructure (OCI) platform: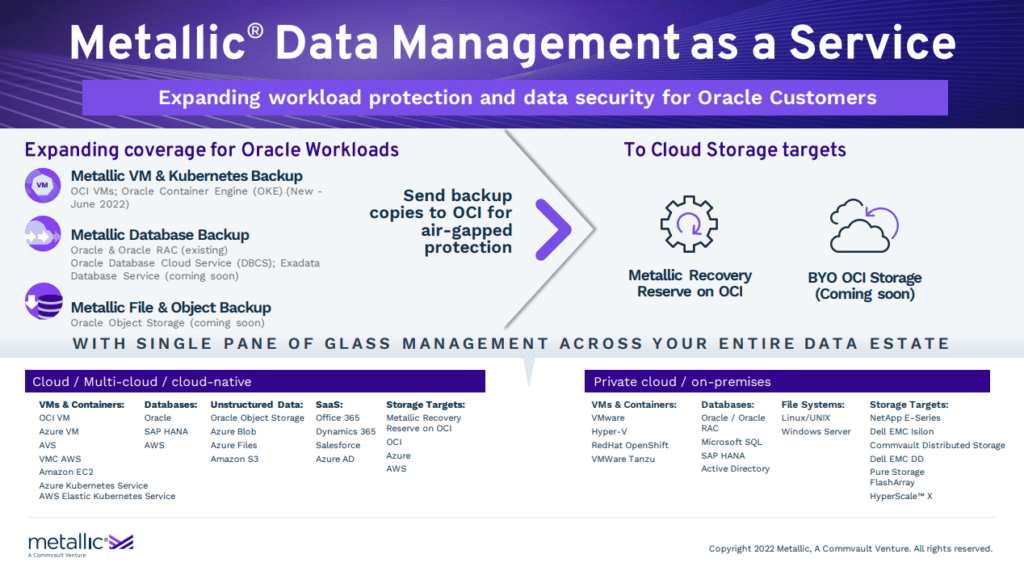 Why Metallic for OCI?
The Metallic SaaS solution for OCI offers the following benefits:
Enables backup copies to be located within OCI
Allows customers ease of data mobility. VMs and Apps can be migrated to OCI

Secure Backup from Ransomware and Malware

Ransomware protection is offered with both air-gap and encryption features

Short and long-term

data retention is achieved with OCI standards and OCI infrequent storage backup targets

to manage costs

The single pane of glass management makes administration easy
Which Metallic features are compatible with Oracle Cloud Infrastructure?
Commvault has expanded its strategic partnership with Oracle to include Metallic DMaaS on Oracle
Cloud (OCI) with the following features now supported:
Metallic VM & Kubernetes Backup – including for OCI VMs and OKE
Metallic Database Backup – including for Oracle and Oracle RAC
Metallic File & Object Backup
Air-gapped ransomware protection with storage flexibility – including Metallic Recovery Reserve™ on OCI – a simple managed cloud storage service for recovery
Which OCI features work with Commvault's Metallic offering?
By adding support for protecting OCI workloads and writing to OCI Storage, Metallic's data protection now spans:
OCI VMs
Oracle Databases
Oracle Container Engine.
Oracle Linux
Further Reading
To read more about Metalic, you can find the official Commvault page here
For more information about the new partnership, see here
To find more information on the Metallic SaaS offering for OCI, please see the Oracle Cloud Marketplace
Tags :
Commmvault
Metallic
Oracle