With vSphere 6.0 going End of General Support in March 12th 2020, let's take a look at 5 must-know features of vSphere 6.7 to make your job at work easier.
File-level Backup and Restore of VCSA
Backing up your VCSA is imperative if you need to restore due to corruption, failure or admin error. The vCenter Server Appliance is the heart of vSphere, managing your hosts, configuration and integration between a variety of VMware solutions including SRM, vROps, Log Insight etc.
We have been able to backup the VCSA at the file level via the VAMI interface for some time, but as of vSphere 6.7 Update 2, we have the option to schedule backups frequently to an external location.
I've covered exactly how to backup the VCSA to PhotonOS here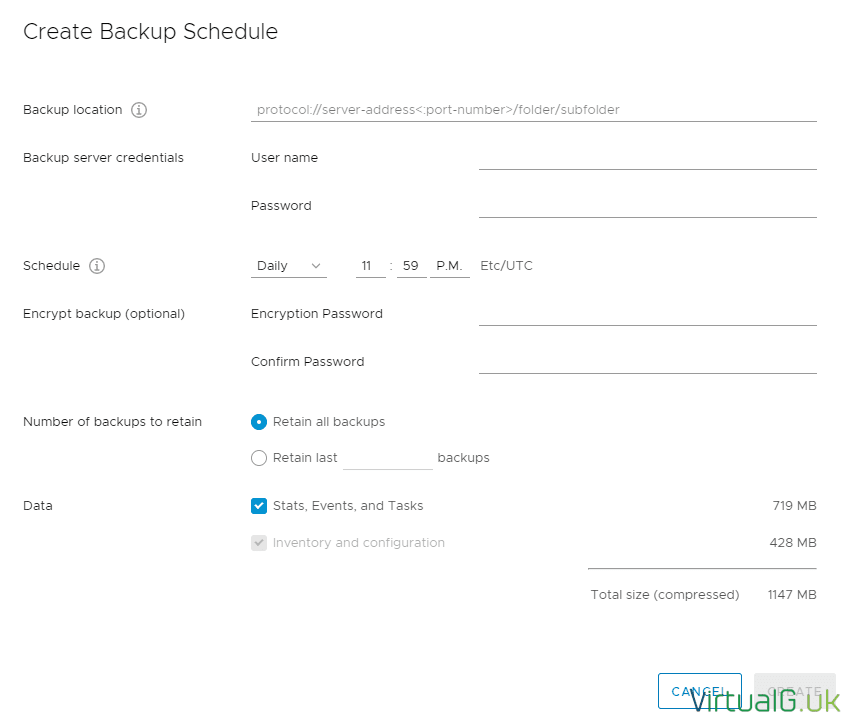 Restore is simple too, follow the official guide, but at a high level, you run the VCSA installer from the ISO and follow the prompts.
Content Libraries
A much underutilized vSphere feature is the Content Library. Content Libraries are a store for things such as VM templates and ISO images.
The power of Content Libraries comes in play when you share a Content Library between two sites or import an external content library from an external source to utilize community templates. The days of using a dedicated datastore for ISO images is gone. The new way is via Content Libraries, allowing all hosts in an organisation to access templates and ISOs regardless of any LUN masking in place.
As of vSphere 6.7 Update 1, there is now support for VMTX files (Virtual Machine Templates) rather than just OVF files. You can find out much more about Content Libraries here
If you are running  a lab and wish to subscribe to William Lam's Content Library, you can find the URL below and more information on his excellent blog here
https://s3-us-west-1.amazonaws.com/vghetto-content-library/lib.json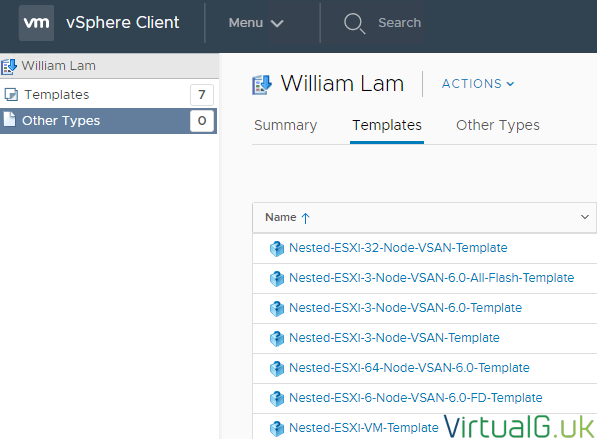 Integrated Code Capture
Something special for developers and fellow automation engineers is the new Code Capture UI, integrated into the vSphere HTML5 Client with no additional software to install.
Code Capture does exactly what it sounds like. You can start a capture, then perform some actions in vCenter Server. Just go back to Code Capture once all actions have been completed to download the PowerShell code that was used to perform those actions.
You can then take this code and adapt for your specific case. This will certainly speed up the development of automation scripts for complex scenarios!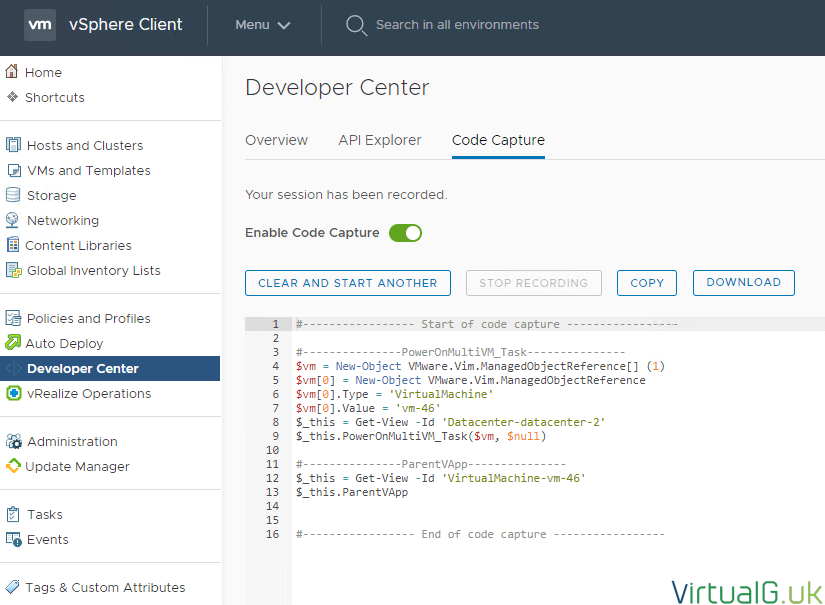 Changes to VMware Tools
In vSphere 6.7 U2 there are a few changes to VMware Tools.
You may have noticed that recently, Linux distributions such as CentOS are shipping with OpenVM Tools as part of the installation media, removing the need for manual installation. If OpenVM Tools is not included, then in most cases, it will be available for install via your usual package manager, YUM etc.
Also, for Windows Server 2016 the PVSCSI and VMXNET3 drivers which are included with VMware Tools are now available via Windows Update. This means running Windows Update will update those, instead of having to perform frequent VMware Tools upgrades.

vSphere Quick Boot
vSphere 6.7 introduced Quick Boot for certain Compliant Hardware. Quick Boot enables faster rebooting of ESXi after patching. This is useful for organisations which have large clusters of hosts. Cutting a few minutes for each host upgrade can be a considerable timesaving for such organisations.
Rebooting servers can take some time, especially when they are configured to perform memory checks on boot. Quickboot is designed to bypass the reboot of the physical server. You can find out more information on an earlier post here or on the official documentation.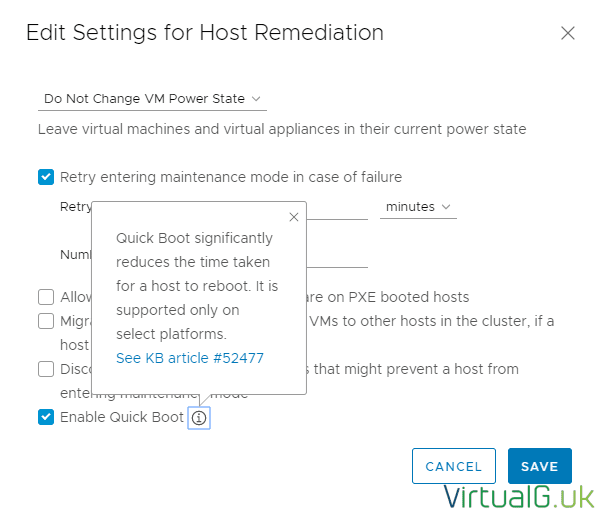 Wrap Up
That's my top 5 must-know vSphere 6.7 features. There were dozens to choose from so I hope this selection is varied and you find some of them useful for your production or lab environment.
Tags :
VMware Code Capture
VMware Quick Boot
vSphere Features