Before selecting a particular software solution for your business, you need to research various platforms across many vendors to ensure you are selecting the right one. This is a time-consuming exercise but an important one.
Fortunately, there are many online comparisons available for each type of Solution, whether that be Backup, VDI, Cloud Management or Public Cloud.
Introducing WhatMatrix – A free to use, independent IT Solution Comparison site
One independent, community-driven site to compare various solutions is WhatMatrix. Recently, WhatMatrix approached me to put together their VMware on Public Cloud comparison matrix. This involved an analysis of VMware Cloud on AWS, VCF on IBM Cloud & Rackspace Private Cloud powered by VMware.
What's interesting about these comparisons is that, while VMware is the vendor of the software in all instances, VMware partners such as IBM and Rackspace offer add-ons which VMware do not. This means that the "best" offerings are dependant on what your requirements are. This reminds me of the VCDX principle of "requirements first" (The only way to tackle Solution Architecture in my opinion)
I like WhatMatrix because they let you select which features and services you need and from there they will rank every vendor solution. This is in contrast to many sites which just give you an "overall best" or top 5 list with no knowledge of what you actually need from a solution.
The Comparisons
Let's take a look at some of the comparisons available at WhatMatrix (Did I say they are all free, with no login required?)
The main 5 comparisons which include VMware offerings are:
Full list below:
You can access all the Comparisons from the home page: https://www.whatmatrix.com
How to use WhatMatrix
Using the Virtualization Platforms comparison, let's take a look at how WhatMatrix works.
Firstly, open up the Matrix of interest.
Getting started with Use Cases
The vendor solutions will be ranked by default including all features which gives you an instant visualization of the top players in the market.
On the right of the page, select Use Case. You can select a default use case or create your own based on your business requirements
Within the use case, you choose what your priorities are (For example Hypervisor > Scripting APIs & anything else you might need)
Selecting features will update the chart on the top right of the screen in real-time so you can see which solutions best fit your selections
You can save use cases for reference later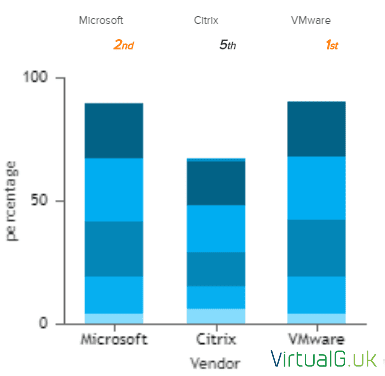 Faster methods
The other way is to ignore the use cases and just select on the main page what your priorities are for a faster way to get the information you need.
To do this, just expand a section and on the left sub-item select either priority or exclude
Once complete, all vendors will be ranked according to how well they perform in the selected areas
Don't forget to change the product version under each Vendor logo that you want to evaluate

Guides
On the site, there is also a guide which goes into use-cases in much more detail: https://www.whatmatrix.com/portal/knowledge-base/ho-to-prioritise-features-in-a-comparison-use-case
Wrap Up
Hopefully using these community-driven comparisons will be useful for your next project. If you have any feedback on the VMware on Public Cloud matrix, please let me know. It is due a refresh and I'll be working on that shortly.
Tags :
Compare VMware
Use Cases
whatmatrix