Before upgrading your vCenter Server or VCSA, it's always time-consuming to work out if other solutions need upgrading prior to the VCSA. Yes, VMware has an excellent Interoperability Matrix but it still takes time to work out which versions of everything are in place and then to load all of that information into the Matrix.
Fortunately from vCenter 7.0, there is a built-in solution for managing interoperability between vCenter and other VMware solutions (Including ESXi, vSphere Replication, SRM, vROps, Horizon etc)
Built-in update notifications
The first thing you will start seeing in vCenter Server 7.0+ is update notifications when there are patches or upgrades available for your vCenter Server:
There are a few places where you might see this notification.
First on the top of the page after login:

Second is on the Summary page for the vCenter Server itself:

Clicking one of these options will bring you directly into the update planner for the vCenter Server.
Update Planner
The update planner is easily accessed by selecting one of the options in the previous section.
You can also access the update planner by selecting your vCenter Server > Updates > Update Planner
This launches the Update Planner pane:

Within the update pane, there are two notable features, generating an interoperability report & a pre-upgrade check report.
Interoperability report
Before upgrading your VCSA (or any solution) you need to ensure that all dependant solutions support the new targeted version of the VCSA.
Typically, vCenter servers will be connected to other VMware solutions including ESXi, vROps, vSAN, NSX, vSphere Replication & SRM plus many more.
The Update Planner shows all available VCSA releases which you can upgrade to. Including a link to the release notes, version, build and severity. This is all incredibly important information, all in one place.
Within the Update Planner, select the target VCSA release which you want to upgrade to. You can also use the link on the right to view the release notes.
Next, press the Generate Report button and select Interoperability:

After a few seconds, a nice report will be available in the UI (and available to export)

This report shows all known solutions which are connected to the VCSA and which version they are currently running. It also shows if the current version is compatible or not which is very useful when planning a VCSA upgrade.
You can see in this example that vRealize Operations Manager is not supported unless upgraded to version 8.1.0 (Or another version shown under the dropdown version)
If information is missing in the report, you can also add additional solutions into the report by using the Modify Product List option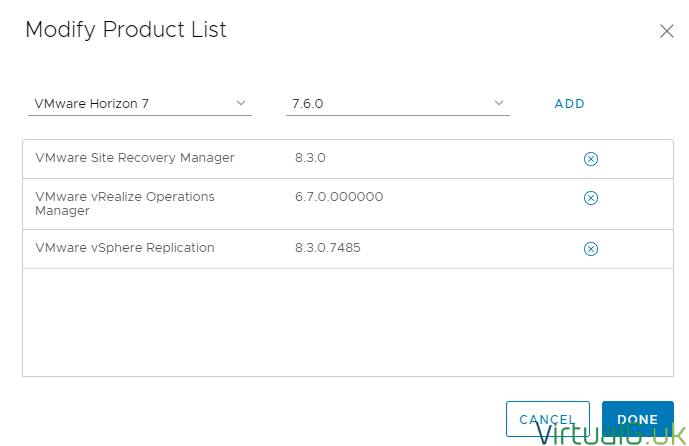 Pre-upgrade check
Once you have ensured interoperability between your VCSA and other VMware solutions, you can review the pre-upgrade check which will list anything which might be blocking you from upgrading the VCSA. This allows you to fix issues before even attempting the upgrade, helping to ensure a smooth upgrade:
At the time of writing, in my lab this feature was not working, however, it's likely a bug and will be resolved in a later release.
Tags :
Update Planner
VCSA Upgrade