VMware's vSAN solution was first launched back in March 2014 as VMware Virtual SAN 5.5. Now, more than 7 years later, vSAN is a stable platform with a complete set of enterprise-ready features. Furthermore, VMware's vSAN is consistently voted a leader in the Gartner Magic Quadrant for HCI. That's all great but how can VMware's vSAN solution benefit your business?
Benefits of VMware vSAN
At a high level, vSAN is a storage solution suitable for everything from high-performance, mission-critical applications to VDI and back-office systems.
It offers everything at the granular, VM disk-level including data protection and encryption, rather than on a per storage array level. Furthermore, vSAN storage design is simple since only SSDs are added to your ESXi hosts, there are no extra external components required which reduces complexity, costs, risks and management overheads.
Simple architecture
From an architectural position, vSAN is an incredibly simple solution.
Take a traditional 3-tier SAN. This would contain:
A pair (or more) Fibre Channel switches
FC modules & cabling
One or more storage arrays
Compute hosts
All of this takes up valuable rack space power and cooling. Procurement is not straightforward and often multiple vendors are required for each hardware components, plus expensive monitoring and patching solutions.
vSAN is simple in this regard. Your existing vSphere hosts simply require a supported disk controller and flash disks. There is not usually a requirement for expensive components which only add points of failure to your storage.
VMware provides vSAN ready node configurations which are vSphere ESXi hosts loaded with supported hardware which takes much of the pain out of your purchasing process. You can order vSAN ready nodes from your existing hardware supplier simply by quoting a vSAN ready node reference number which is available via the highly recommended vSAN Sizer or the vSAN Ready Node PDF.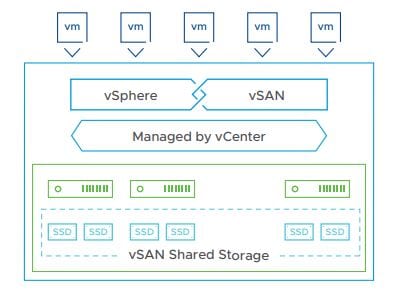 For more on the comparison between vSAN and traditional storage visit my short post vSAN vs traditional storage
Rapid deployment
Since the vSAN binaries are included in every ESXi installation, once your hosts are provisioned and the networks are setup, vSAN can be deployed in just a few clicks.
No longer do we need to worry about complicated FC switch zoning, LUNs or even datastore creation.
The setup for vSAN is completed right from the familiar vSphere HTML5 web client, there is nothing to download or install (expect your license keys from https://my.vmware.com!)
There is really not much else to say here.
Day to day operations is easy with vSAN
Once vSAN is deployed, all management and monitoring is done within the vSphere Client. While other tools are useful, everything you need to get up and running is included within the familiar client, no retraining of your team is required.
vSAN patching is completed as part of your usual ESXi host patching, all from the familiar Lifecycle Manager section of the vSphere Client (Formally Update Manager)
If you run HPE or Dell hosts, then you'll also be able to patch your host's firmware alongside your vSAN patching, no extra steps required.
Patching vSAN and other maintenance operations are also completely non-disruptive. Since vSAN data is distributed and object-based, there is no need to consider storage paths or storage system utilisation.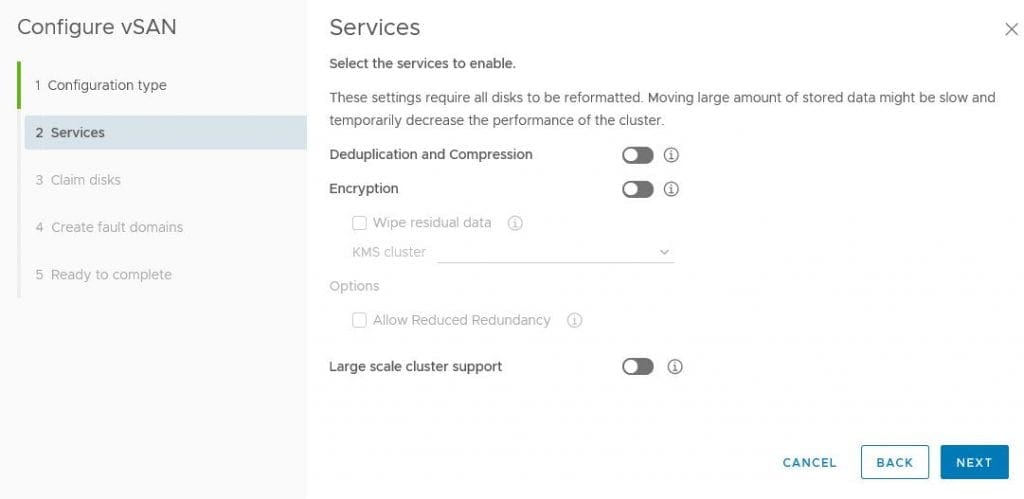 Storage availability in vSAN
Since vSAN creates a single datastore to consume, you don't have to manage dozens or hundreds of datastores. A simple vSAN datastore is made available to provision VMs to which means you don't need to worry as much about datastores running out of space. However, you might be thinking that this is a single point of failure.
Fortunately, vSAN is a distributed storage solution, disks from all vSAN hosts within the cluster are used to contribute either storage or cache. All storage is added together to provision VMs from.
vSAN is also self-healing, if a disk were to fail or a host goes offline, data is automatically rebuilt on other hosts/disks within the cluster.
When it comes to data availability, instead of setting a RAID level on a per storage array or datastore level, this is now down on a much more granular level, RAID at the VM disk level.
For each VM disk, you can set a storage policy. This contains features such as a number of failures to tolerate (hosts or disks) – This essentially determines the RAID level per VM disk. Other features such as performance stripes and encryption can also be enabled on a per VM disk basis making this a highly flexible solution.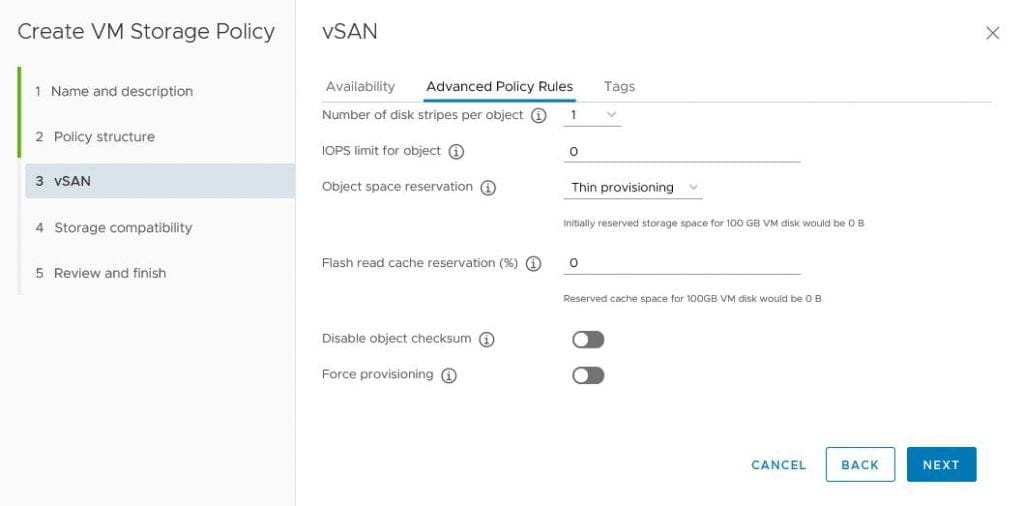 vSAN Availability and Disaster Recovery
Unlike traditional storage topologies, vSAN can be configured to work with per node fault domains. This ensures that for example, VMs with a RAID 1 storage policy have their data split between domains (Different racks for example).
vSAN also natively supports stretched clusters. Here, data can be split between sites to allow for complete site failure with zero data loss / Zero RPO.
If you're not wanting to host vSAN at your DR site, you can go with a traditional storage solution at DR and use VMware's Site Recovery Manager and vSphere Replication. This isn't quite as effective as synchronous replication but it does offer RPOs down to 5 minutes and is a cost-effective way to have some kind of DR for your data.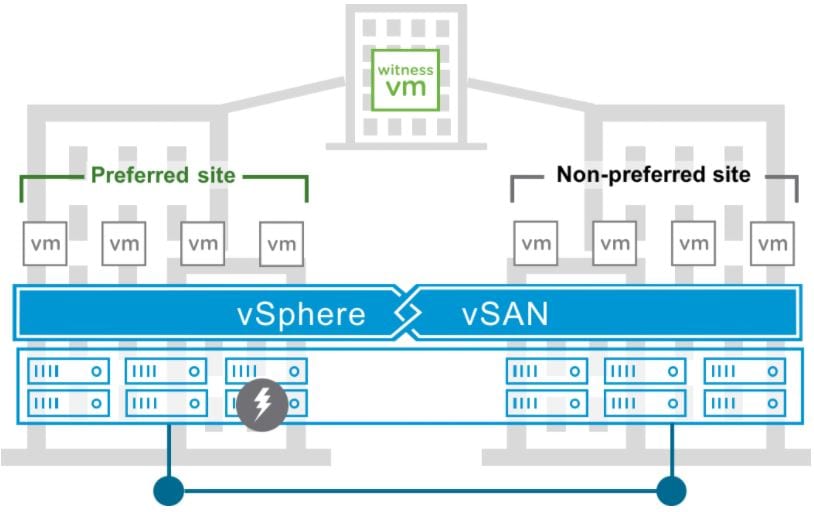 Does VMware vSAN scale?
Absolutely, you can either scale up or out with vSAN giving you the ultimate in scalability. Adding disks to existing hosts or adding new ESXi hosts to grow your compute and storage capacity linearly are both simple options to complete from the vSphere HTML5 web client.
With vSAN 7.0 Update 1, up to 64 hosts per cluster are supported. Given that vSAN 7 now supports 32TB disks, this translates into a theoretical maximum of over 1PB of storage per vSAN cluster (You might want to break that up a bit though!)
What enterprise features does VMware vSAN come with?
With every new update, vSAN never disappoints, it's constantly being developed and new features are frequent.
Some of the new features over the last few years include:
Provision storage to external solutions from vSAN with the new iSCSI target service
Set IOPS limits per VM
Deduplication
Compression
Data at Rest Encryption
In Transit Encryption
Highly available File Services (SMB and NFS shares provisioned directly from vSAN with AD integration)
RAID 1, 5 and 6 options per VM or VM disk
Multiple VM disk stripes for improved performance
Remote Office / Branch Office (ROBO) 2-Node options
Don't forget that new features are not tied to hardware, so you'll not need to upgrade your storage hardware to make use of new features!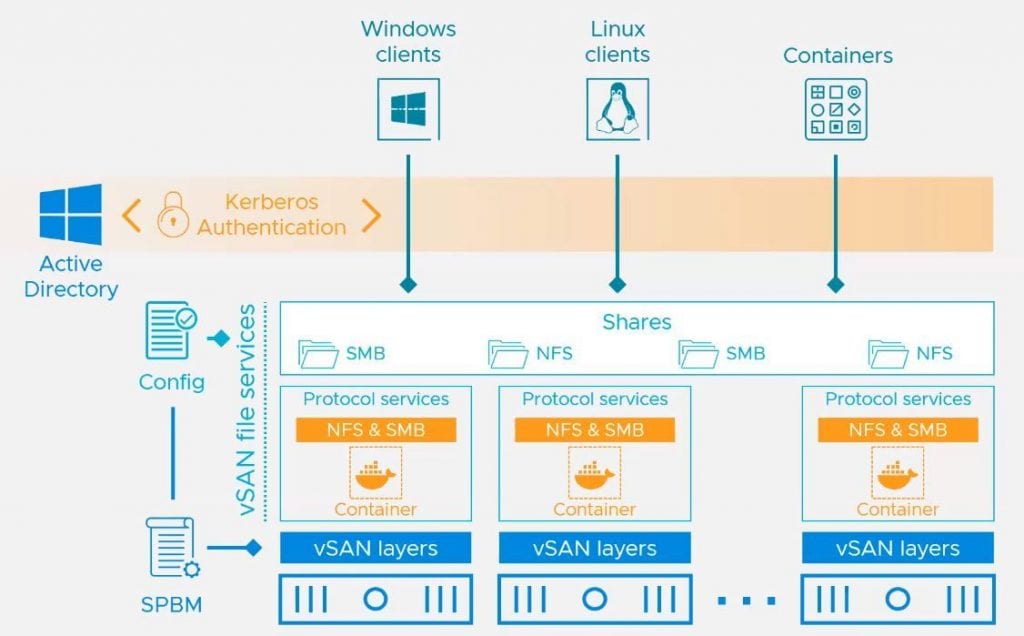 vSAN wrap up
If you're looking to reduce your Total Cost of Ownership (TCO), simplify storage and offer more enterprise features to your internal stakeholders with each, then look no further than VMware vSAN!
To find out more about vSAN visit the official product page also be sure to check out the vSAN YouTube channel
For more information on vSAN 7.0 Update 1, check out my post on the top new features in vSAN 7.0 update 1
Tags :
VMware vSAN
vSAN Benefits