Last week I was fortunate to attend Commvault Connections 2022. The virtual event offered keynotes, technical sessions, and stories from customers on a range of topics. The event was broadcast internationally which allowed IT leaders to gain insights and best practices on how to innovate and adapt to the ever-changing world of IT.
Modernizing Data Management
This year, I was particularly interested in Commvault's Modernizing Data Management sessions. This track promised tips on how to embrace changes and how to adopt a modern data management strategy, a strategy that not only works but scales and is able to support new workloads, thus enabling IT professionals to use data in creative ways.
There were three key sessions in this track:
The Modern CIO's Journey to the Cloud
Is Kubernetes Cloud-Native Data Protection the next frontier?
Digital Transformation is a Journey, Not a Destination
The Modern CIO's Journey to the Cloud
Session Abstract: No two clouds (or cloud journeys) are the same. As your organization embraces the cloud, you must still manage your critical data regardless of where it resides. Learn from a Michele Buschman, CIO at American Pacific Mortgage, on why the right data protection solution is your ticket to effective hybrid cloud adoption – without performance issues or vendor lock-in. Commvault CMO, Isabelle Guis, will have Michele navigate through the ups and downs of cloud transformation within a large enterprise and leave you with a 5 step checklist to accelerate your own cloud journey.
My thoughts
It was great to hear from a real customer and their experiences as a C-Suite Executive on their journey to the cloud.
Michele Buschman explained that all of her business strategies require some form of IT solution to make it work. This ranges from demonstrating how IT can be leveraged for products, to improving revenue and identifying new business opportunities.
Isabelle Guis highlighted how IT is no longer just about keeping the lights running but it's an enabler for business growth. This was an interesting comment and is often forgotten. If we go back just a few years, IT was typically seen as simply a business cost, but with time it has also become a serious business enabler for many companies who embrace it.
Michele explained that their first experience with Commvault was for data backup and protection. Commvault was chosen for its reputation. The transition to Commvault enabled the business to recover from file deletion from 2 hours to less than 5 minutes. With time-critical financial applications such as mortgages, if a file goes missing time is key so the fast recovery capabilities from Commvault made it their number-one backup and recovery solution for their data.
Michele also explained that they have a number of regulations to abide by, given their financial operations and how they hold a significant about of personal information. Security was also key, the business holds not only personal information but also sensitive account data which cannot end up in the wrong hands, so any solution they chose had to cater for such things.
In summary, it was interesting to hear about data challenges from other industries which we may not usually be accustomed to. Every business has it's challenges and it's important to be able to find a solution for data protection, backup, and recovery that can span not only the IT requirements such as multi-cloud but also other areas such as strict data-governance related regulations.
Is Kubernetes Cloud-Native Data Protection the Next Frontier?
Session Abstract: The adoption of Kubernetes, the open-source container orchestration tool, is the future. Many organizations have decided to deploy containers in an effort to speed up development and remain agile in this ever-changing world. With container and Kubernetes usage accelerating over the last few years, especially amongst large enterprises, it's time to understand the efficiencies your organization will gain from adoption. In this session, hear from industry expert, Nigel Poulton, expert on all things Kubernetes and Commvault's Mike Letschin, to learn why Commvault is a leader in Kubernetes data protection and can support the most diverse tech stack.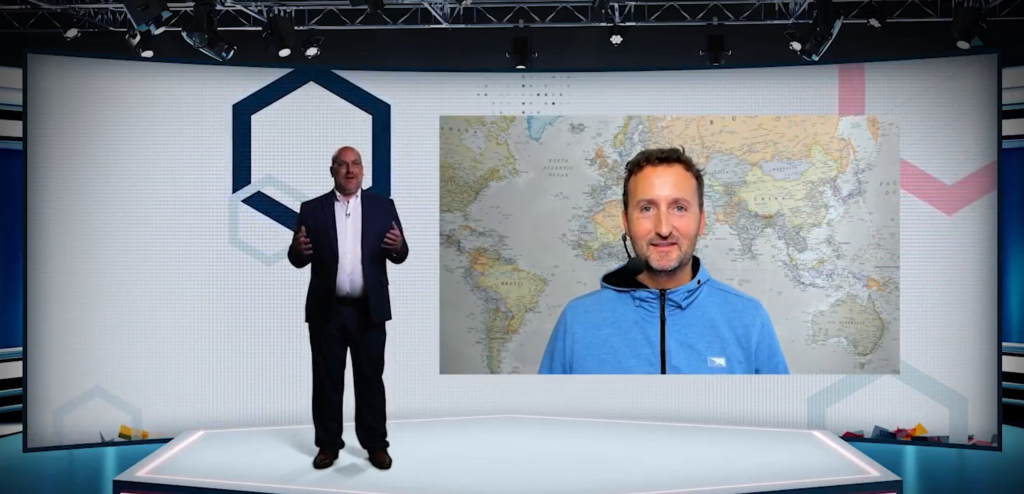 This was my favorite session of the event. I enjoyed being taken back to the beginnings of Kubernetes and the solution has evolved over the years. Nigel Poulton is a well-known Kubernetes trainer. He explains that originally the Kubernetes user was the new cloud-based startup. I agree with this statement and I'd add that most businesses are either using/evaluating Kubernetes or containers now.
Nigel continues explaining that any"new" application is typically installed with a Container/Kubernetes ecosystem and existing applications are typically migrated on refresh where possible.
Interestingly, Nigel also talks about Virtual Machines and Containers, going on to talk about how he sees them working side-by-side in many organizations.
The host, Mike Letschin asks Nigel about the role of Kubernetes and if they have a place for enabling moving applications to the cloud. Nigel explains that they're helping accelerate the digital transformation trend and making it much easier to migrate to and between clouds.
Nigel reminds us that developers like containers because of the hardware abstraction, they do not need to be concerned about the hardware layer. However, while the hardware layer is being abstracted in this way, we are reminded that the protection of data on the storage layer is vital.
Overall, a great session on Kubernetes. If you're interested in their role in data protection, be sure to check the on-demand recording.
Digital Transformation is a Journey, Not a Destination
Session Abstract: Transforming your data to keep up with the modern world is no easy task. With growing data footprints, increased risk cyber-attack, and widening skill shortage today's businesses need solutions that don't just protect their data, but give them the flexibility to manage ongoing change. Commvault can securely accelerate your digital transformation by meeting customers where they are today, and going to tomorrow. Commvault enables customers to manage hybrid cloud workloads with our enterprise software or integrated appliance solutions, AND, at the same time, manage cloud native workloads with our Metallic SaaS solutions, seamlessly, across a unified customer experience – this is what we call the power of AND. Hear from Commvault customer, CareSource, on how they accelerated their digital transformation journey though the flexibility, breadth of coverage, and trusted security from Commvault's unique offerings.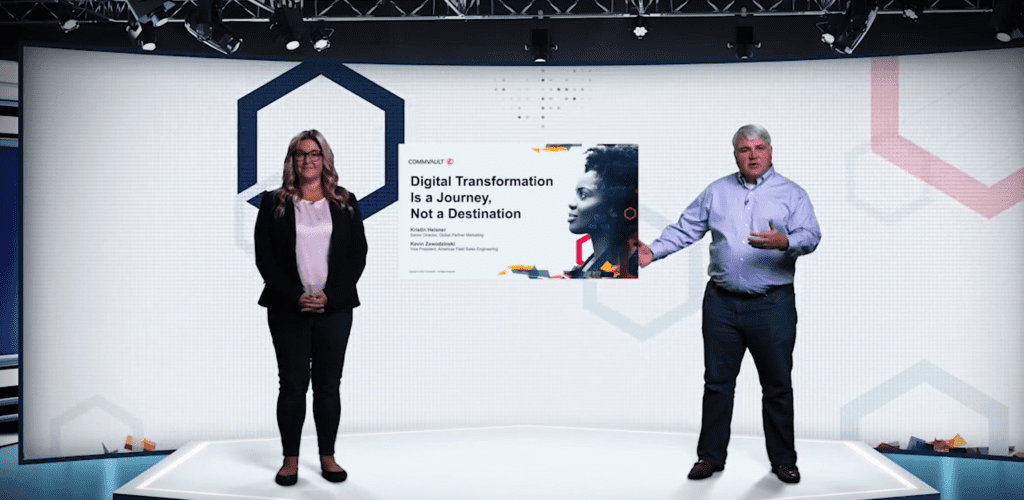 Kristin Heisner starts by informing us that Data Transformation isn't easy. Some of the challenges include:
Constantly Adding New Technologies
Increased Risk from aging infrastructure at risk of attack
Skill Shortages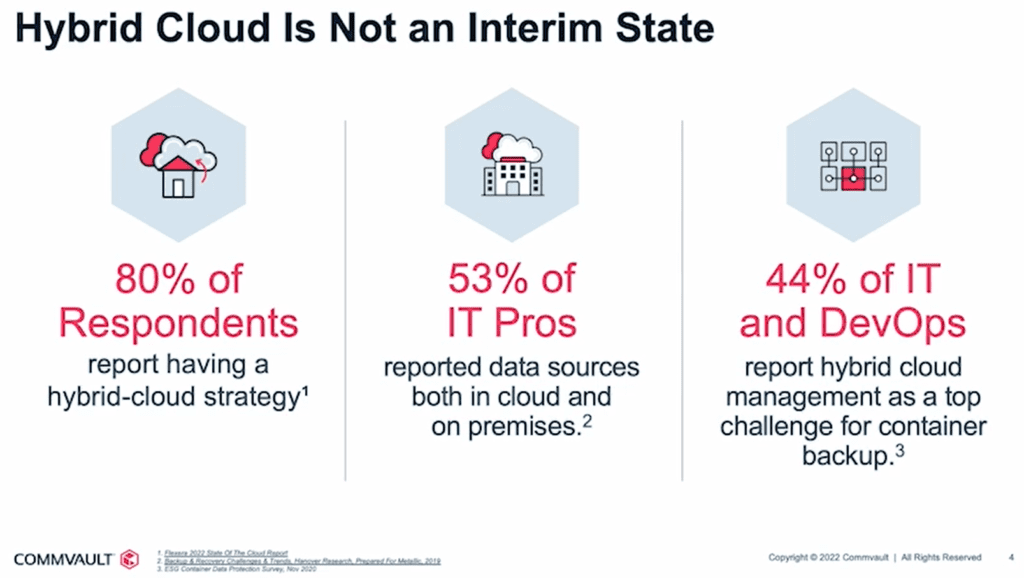 Dealing with all of these issues and trying to apply data transformation principles to the business is a significant hurdle.
Kristen continues by explaining that data is everywhere, on all kinds of different systems, on-prem, cloud, and on legacy infrastructure solutions. Transitioning from an infrastructure focus to a data-focused environment is key to success on a data transformation journey. To achieve this, it seems obvious that a comprehensive solution, covering all IT workloads is necessary.
This is where Commvault comes in. They offer a customer-managed solution for traditional on-prem data management and also a SaaS solution to manage cloud data, all from a single pane of glass. Commvault calls this "AND".
Next, we heard from a construction management services company. Their main challenge was about managing all their data, backups, and recovery but doing so in an intelligent way where they could invest in their IT more wisely. For example instead of managing tapes, the team could be managing data archival, identification, and protection. A cloud solution from Commvault also allowed them to free up valuable resources for other tasks which would otherwise be consumed by managing backups on-prem. This can now all be sorted in the cloud with almost no on-prem systems management required.
The organization seemed very impressed with Commvault's Metallic offering, having the security of knowing that when a new product is deployed, Commvault will be able to help them with their data management requirements.
Wrap-up
Connections 2022 by Commvault was well worth attending this year. I really enjoyed the customer discussions to see what data management challenges they continue to face and how they solve them through their Digital Transformation journey. I also liked how many of the sessions were vendor agnostic, allowing even those who are not necessarily Commvault customers to learn something new without prior product knowledge.
You can watch the on-demand sessions on the Commvault website: https://commvault.6connex.com/event/Connections
Tags :
Commvault
Data Management
Virtual Conference