Cohesity are well known for their data management solutions. Cohesity not only provide excellent traditional backup and restore offerings but they go the extra mile, providing industry-leading ransomware protection and recovery solutions. This is all necessary for any organisation that takes its data security and integrity seriously.
Keeping up to date with such threats is challenging. With threats to our data and integrity on the rise every year, how do you know that you're using the next technology for ultimate protection? Fortunately, Cohesity are running a virtual event next week, starting October 19th for 3 days. The event promises to focus on the latest in data management including:
Cyber Resilience
Hybrid-Cloud Strategies
Data Protection
Unstructured Data Management
Automated Disaster Recovery
For more information on the event, check out the overview below:
Conference to Spotlight the Benefits of Next-Gen Data Management Going Beyond Zero Trust to Combat the Threat of Ransomware
Cohesity is pleased to host its inaugural user conference Cohesity Connect, a global, virtual event running between 19-21 October that gives attendees from around the world the opportunity to hear about the latest trends and innovations in next-gen data management.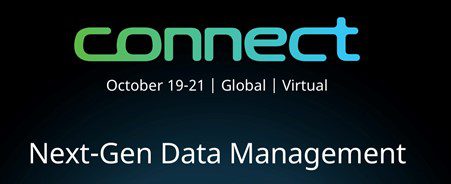 A key focus of the event this year will be cyber resilience. Attendees can learn about next-gen technologies that can protect their data and businesses from sophisticated ransomware attacks — and save them from having to pay costly ransoms.
The event unites technology innovators and forward-thinking organisations around critical business issues including cyber resilience, hybrid cloud strategies, data protection, unstructured data management, automated disaster recovery, and more.
With more than 30 dynamic sessions and breakout discussions, Cohesity Connect will bring together industry experts, business and IT leaders, and data management professionals to share insights on the most pressing data challenges facing organizations today, from the growing threat of ransomware attacks and disaster recovery to optimizing operations with SaaS and hybrid cloud deployments.
Cohesity leaders will also highlight the latest updates to the Cohesity Helios next-gen data management platform and unveil new products that help keep customers a step ahead of bad actors, harness the power of AI and ML to identify threats that are beyond the scope of manual intervention, further simplify data management, and enable customers to do more with data.
The event will feature a variety of high-caliber speakers, including:
Mohit Aron, CEO and founder, Cohesity
Kevin Miller, vice president and general manager, S3, Amazon Web Services (AWS)
John Kindervag, creator of the Zero Trust security framework and senior vice president, ON2IT Cybersecurity
Nick Warner, chief operating officer, SentinelOne
Marianne Bailey, former senior cybersecurity executive, National Security Agency (NSA) and partner at Guidehouse
Bill Graff, senior vice president and chief information officer, Cerner Corporation
Bill Schlough, senior vice president and chief information officer, San Francisco Giants
Attendees can also obtain free professional certifications in data protection, file and object services, and multicloud solutions during half-day Cohesity Academy sessions.
The event will conclude with an inspiring address from Peggy Whitson, a former NASA chief astronaut, who shattered numerous spaceflight records over the course of her decorated career.
To learn more about Cohesity Connect and register for the event, please visit cohesity.com/connect.
I hope to see you all there on the 19th!
Tags :
Cohesity
Conference