It's only been around 6 months since vSphere 7 Update 2 was announced. Today VMware has announced new functionality in update 3.
If you're looking for all the best bits of vSphere 7 Update 2, check my in-depth post here.
You'll also notice that I publish these posts out really early, if you'd like to be notified as soon as they are published, subscribe to my free mailing list and you'll be one of the first to find out about the latest in vSphere.
vSphere Lifecycle, Upgrades and Patching
SD card guidance
VMware has recently explained their stance on using SD cards on production ESXi hosts.
The summary of these discussions is:
SD cards & USB devices are unreliable over the long term.
The ESX-OSData partition should be stored on a local, reliable persistent storage device.
ESXi 7 has a minimum storage requirement of 32GB.
Going forward, SD cards and USB boot devices when used for ESXi will generate a warning and run in "degraded" mode.
The degraded mode error message is "ALERT: No persistent storage available for system logs and data. ESX is operating with limited system storage space, logs and system data will be lost on reboot "
VMware recommended using a persistent, local storage device. Options include SSD, BOSS card, PCI storage device etc
For more information on this issue, please see the official FAQ page
vSphere Lifecycle Manager Improvements
vLCM now supports the editing of depots including the ability to manage patch, update and recall objects. You'll also be able to delete objects from the depot.
This functionality is available only via the API at this time but will be introduced into the UI later.
vSAN compatibility checks now expand to disk compatibility. This means that vLCM will check installed drive firmware against the official vSAN HCL.
Staying with vSAN, vLCM now also manages standalone vSAN witness nodes. Now vLCM will be able to patch the witness node for vSAN (if you have one) saving further time when patching vSAN clusters. This is not yet supported for shared vSAN witness nodes.
VMware Cloud Services – vCenter Upgrades
If you're a VMware Cloud on AWS customer, you'll be happy to see reduced downtime for vCenter Server upgrades:
As usual, a new VCSA is created a part of the upgrade process
Database and configuration is copied over to the new VCSA and synchronised up.
The VCSA switchover process started and the VCSA services on the new VCSA are started – This is the only downtime period.
Resource Management
VMware has made a useful update to resource management if you utilise persistent memory features.
There are now new performance statistics for persistent memory, available directly from the vSphere UI: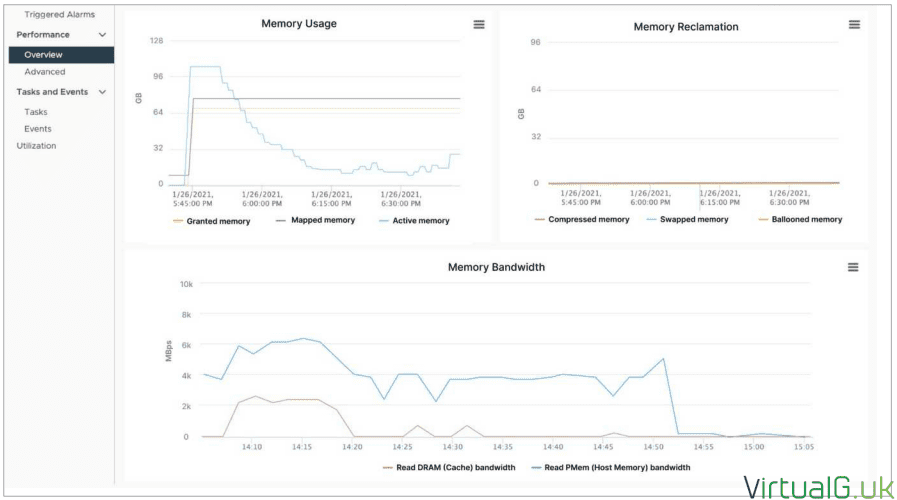 Maintenance Mode and Workload Placement
vSphere 7 has already improved DRS and vMotion but this update 3 release improves on these further:
Continued improvements to DRS and vMotion
Significant time savings when upgrading ESXi hosts
Improvements of the reliability of maintenance mode
Better placement of workloads, when enabling maintenance mode
vCLS Virtual Machines
vCLS has recently taken some services out of vCenter server and enabled them at the cluster level via small virtual machines.
Improvements on the vCLS VMs include:
The ability to choose which datastores vCLS VMs are deployed to
Host affinity for vCLS
The removal of brackets within the vCLS agent VM names for better support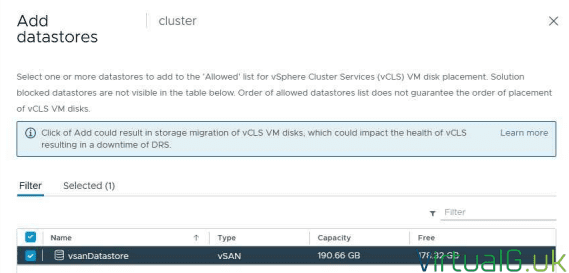 Improved Guest Operating System Feature Support
With vSphere 7 Update 3 there are the following updates:
Full support for cloud-init
Guest Data Publisher
UEFI 2.4 support for virtual machines
AMD support for VBS
Updates to Precision Time Keeping
An earlier release of vSphere introduced PTP (Precision Time Protocol for more accurate time support.
PTP now supports the ability to add traditional NTP servers as a fallback, should the PTP service no longer be operable.
Time is key to a successful vSphere architecture, so this is a welcomed change to the initial PTP implementation in vSphere.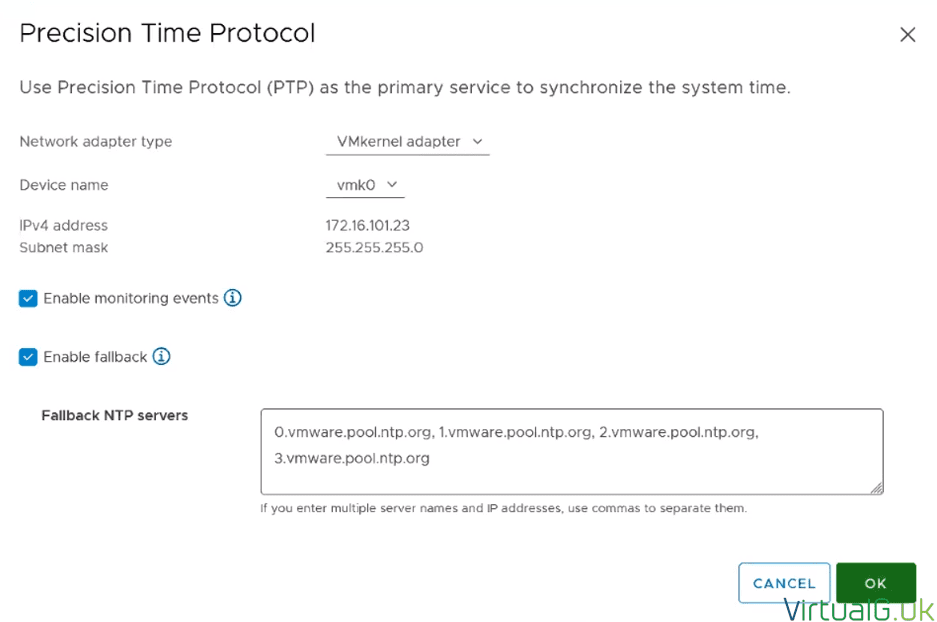 Core Storage Enhancements
There are no major improvements to core storage in this announcements, but if you're using or plan to use NVMe or vVOLs, you might be interested in these:
In vSphere 7U3 you can now access local NVMe devices over TCP/IP. This is in addition to FC and RDM access which was previously announced.
VMFS-6 and NFS now supports 128 attached ESXi hosts
For those using vVols, the snapshots are now batched processed for performance improvements
vSphere & NSX integration
NSX and vSphere are now integrated into a Single Pane of Glass. This is a much-welcomed improvement for NSX-T customers.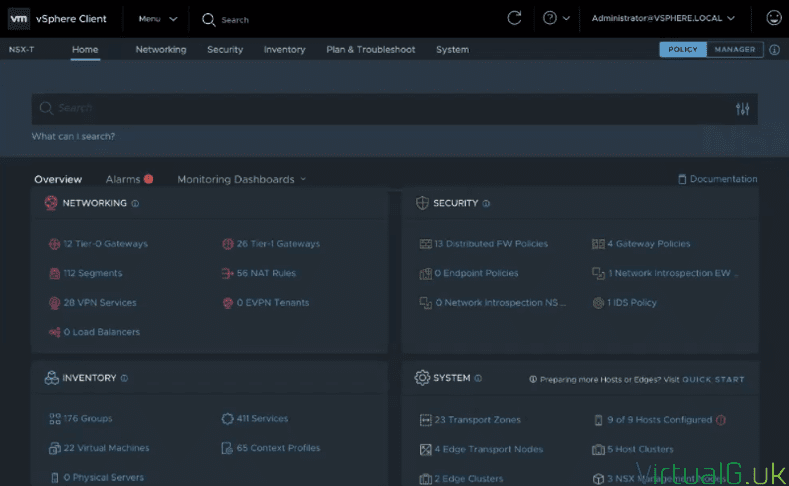 vSphere Management with PowerCLI
PowerCLI 12.4 is coming soon. This will include
Directly invoke REST API via PowerCLI (New API Bindings)
New Powershell based certificate management cmdlets
Additional support for vSAN via PowerCLI
vSphere With Tanzu and Kubernetes
If your organization develops software / ML or AI of any kind, you'll probably have heard about containers and Kubernetes to some degree.
Streamlined Network Setup for Kubernetes Clusters
VMware has improved the setup and support for existing environments when it comes to the network provisioning of Namespaces and Supervisor clusters.
What's changed here is that VMware has created a new DHCP network mode which integrates directly into your existing environment, you're able to specify the network and DHCP server addresses to use for both your workload and management clusters.
Improved Error Messages
VMware has made error messages clearer and more detailed. This is to help with troubleshooting Tanzu related issues.
Furthermore, vSphere 7 U3 also checks Tanzu configuration for issues and reports these more cleanly.

Further Resources
If you are interested in being the first to find out about vSphere updates, be sure to subscribe to my free mailing list for immediate access to these articles which I post early on release day.
For more information on vSphere 7, please find the below articles:
What's new in vSphere 7 Update 1
What's new in vSphere 7 Update 2
Download vSphere 7 U3
Once released, vSphere 7 Update 3 will be available to download here
And the full release notes should be available here
Tags :
VMware 7 Update 3
vSphere 7.0U3