If your organisation is using VMware solutions, you'll have likely heard about VMware Tanzu, Kubernetes and Containers.
However, if you're like me, you probably haven't had time to really understand these technologies and how they might be able to help your organisation.
Fortunately, VMworld 2021 is completely free and virtual again this year. This means that from the comfort of your home or desk at work, you can watch the on-demand VMworld sessions at any time for no cost at all! Setting a training day aside to absorb the latest in technology and to learn from industry experts is crucial to keep up to date.
This year I'm going to be focusing my time on learning all about VMware's Tanzu offering. This is a "hot topic" and one which I believe will transform many organisations over time, much like how virtual machines did in the early days of vSphere.
VMware Tanzu at VMworld 2021
First, Register to VMworld 2021
This year, VMworld starts October 5th and finishes on October 7th 2021
Before reading any further, make sure you are signed up to VMworld. It's completely free.
Once you are registered you'll be able to access the links below and market the favourite icon on each session to bookmark them for later.
You can signup to VMworld 2021 here
Entry Level
Starting at the entry-level, I recommend Get Started with vSphere with Tanzu [MCL1648]
Mike Foley is known for his work in VMware security and holds at least one patent relating to virtualization technologies.
If you want to get started with Tanzu, this is the session to attend.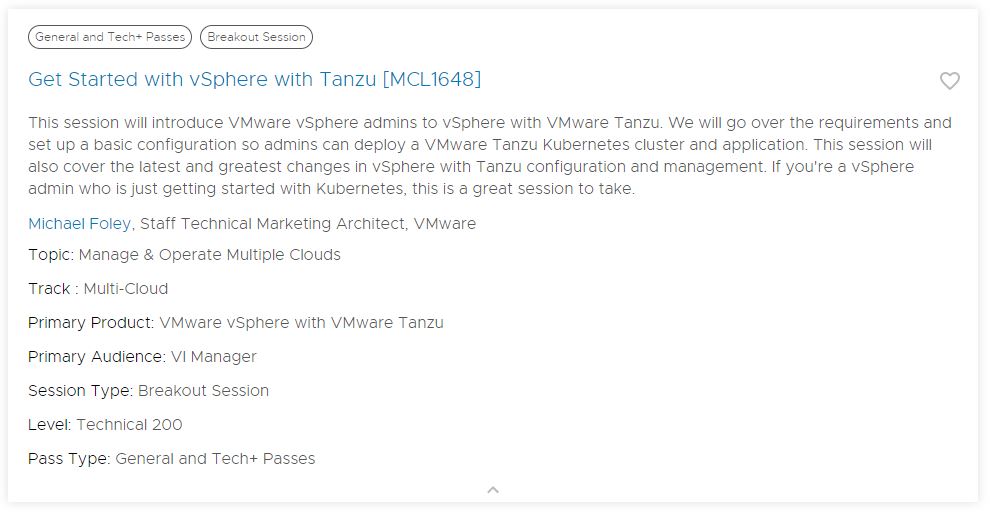 It also looks like Intro to VMware Tanzu Advanced: Speed the Delivery of Modern Apps at Scale [APP1804] will be a good watch.
Another entry-level technical session but this time, focusing on one of the popular Tanzu licensed options.
This one looks a bit more detailed and aims to help understand the business benefits of Tanzu and how the implementation of Tanzu affects the organization.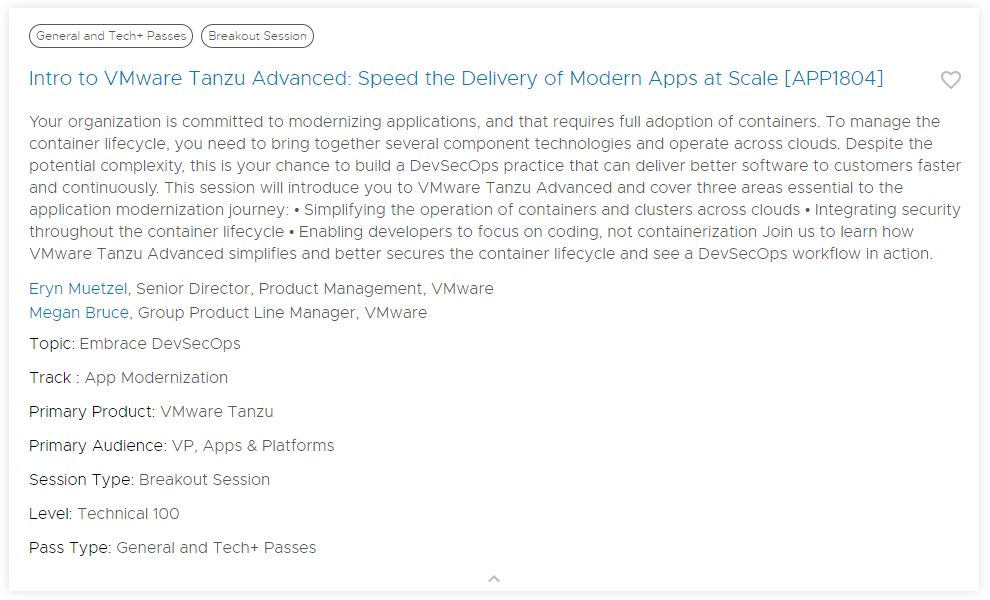 Intermediate Level
Modernize Windows Apps: Introduction to Windows Containers on Kubernetes [APP1999] is focused more on how to use Windows Containers on Kubernetes but I think this is key to a successful deployment of Tanzu.
We need to know how the system will be used in order to set it up for our stakeholders.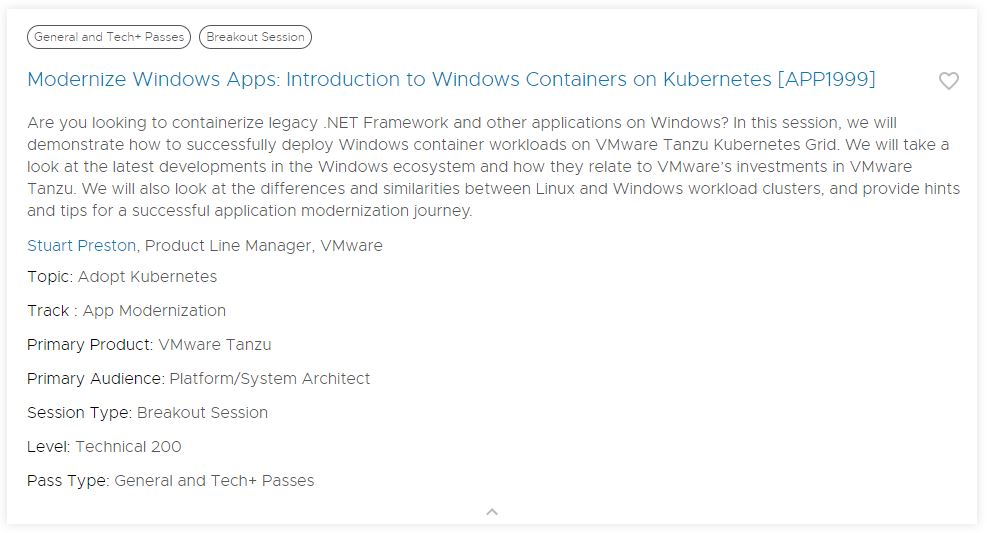 Another session to consider: The Future of VM Provisioning – Enabling VM Lifecycle Through Kubernetes [APP1564]
This session promises to guide us from traditional virtual machine provisioning to how the Tanzu offering can help with this via the new VM service.
One of VMware's product line managers, Nikitha Suryadevara will be presenting key roadmap information so that you can prepare your deployments accordingly.

Expert Level
Finally, Deep Dive on vSphere with Tanzu Updates [APP2063] is worth a watch if you want to learn about Tanzu in more detail.
This session has already won the VMworld choice award and VMware's Deep Dive sessions always go down well so be sure to watch this one.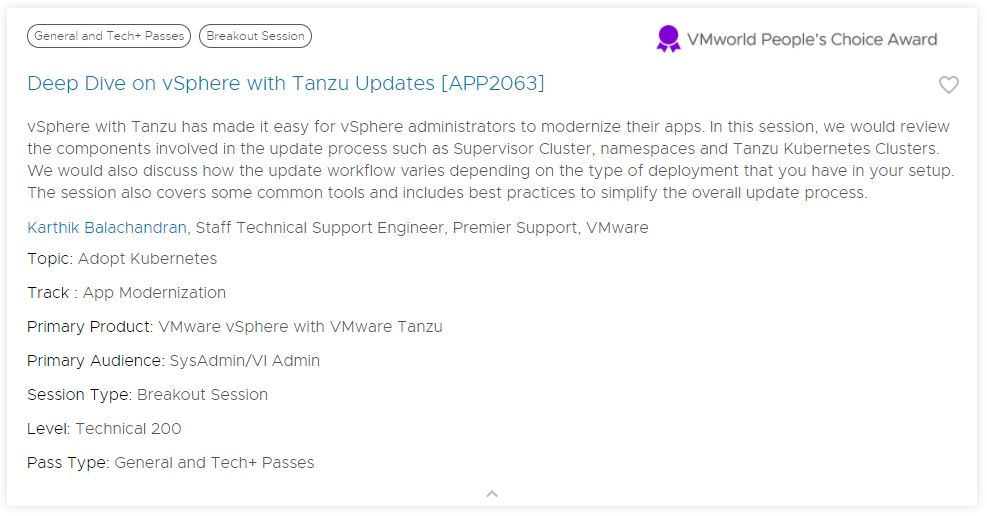 Don't forget, you can signup to VMworld 2021 here
Tags :
VMware Conference
VMware Tanzu
VMworld