The first batch of stickers have all gone! Check back next week for updates.
Every year I give away free stickers to vExperts.
This is my way of thanking the vExpert community who have helped me every year both personally and professionally.
Qualification
To qualify, you need to have an active vExpert 2021 profile URL (You can find this in the vExpert directory)
There is a limit of 1 sticker per person, per year.
If you want to give something back (100% optional), there are a few ways:
Tweet a picture of your vExpert 2021 sticker on your laptop to @virtualg_uk
Say hi at the virtual VMworld 2021 🙂
Terms
I am covering all sticker production, postage & packaging costs.
To post your order, I need some personally identifiable information such as your name and address, however, I will delete this information as soon as the sticker is dispatched.
1 sticker per person.
This is a limited availability offer as I don't have an endless supply of stickers (or budget!)!
The sticker
The dimensions are 3 inches wide by 2 inches tall.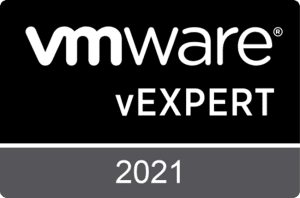 I use StickerMule to print the stickers, they are high quality and don't take much effort to remove.
If you want to order your own stickers, I have a referral link which gives us both $10 / £8 off next order here
Submission of this form doesn't guarantee you a sticker. I'll simply be posting them to those who submit the form in ascending order.
If you were successful, I'll email you to let you know once it's dispatched. I'll close the form as soon as I can after the available quantity runs out.
The first batch of stickers have all gone! Check back next week for updates.
Tags :
vExpert Sticker
VMware vExpert