The underlying concepts of "Hybrid Cloud" are not new to the IT industry but the way in which they are delivered certainly is.
It was back at VMworld 2017 where I recall VMware's vision being presented on stage by Pat Gelsinger:
And these comments are true; a real VMware hybrid cloud needs consistent infrastructure, consistent operations while at the same time reducing complexity and risk.
Moving on almost 2 years since this presentation, what does VMware's portfolio look like and should you consider it?
First I need to start by explaining that there are 15 solutions in the VMware Hybrid Cloud Catalog, VMware on AWS is just one of them.
VMware Cloud on AWS is probably the most well known hybrid cloud solution from VMware. However, from talking to people about it, I hear why they don't use it and I find that those comments are mainly based on myths out there in the wild so by putting together this post, I hope some people can learn the real uses for this solution and to put some misconceptions at rest.
VMware Cloud on AWS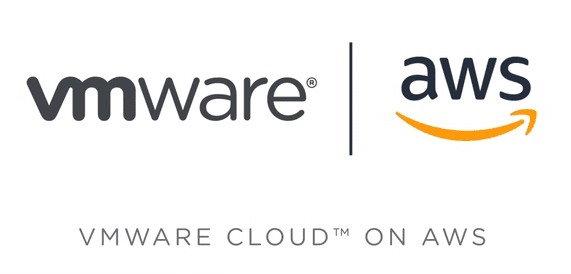 If you have a need for a hybrid cloud solution and don't want to re-engineer your applications, this is a must for your consideration.
VMware on AWS includes storage, network, licensing, support, upgrades and a lot more. – VMware actually upgrades the entire stack for you for no additional costs. Support is also accessed via traditional methods or live chat which responded to me within 45 seconds.
Use cases
Disaster Recovery – With the flexible pay as you go model, you can keep costs down and add new hosts to the solution within just a few minutes should you need to invoke your DR strategy.
Seasonal bursts – Are your applications seasonal? If so you can leverage the on-demand VMware on AWS solution to burst into from your on-premises infrastructure.
On-premises extension – Use VMware Cloud on AWS as an extension of your exiting SDDC via various connectivity options and no additional licensing costs.
Cloud usage model – Move your production VMware stack to VMware Cloud on AWS in its entirety. This enabled the power of VMware SDDC and the elasticity of AWS.
With all options, you can access AWS native cloud solutions right from your new VMware on AWS SDDC!
Benefits of VMware Cloud on AWS
Make use of a solution powered by the industry-leading SDDC provider and the worlds largest public cloud.
Enable rapid elasticity – Add  a host to your cloud SDDC in just a few minutes or turn on automatic addition of ESXi hosts (Powered by DRS)
Pay as you go – Only pay for the hosts you use. No more do you need to pay for additional spare hosts or cold-standby server or storage hardware.
Familiar user interface. VMware on AWS has the same HTML5 interface as vSphere 6.7 that you use on premises.
No additional training. Since VMware Cloud on AWS uses the same on-premises user interface and vCenter Server solution as the management pane, it is already a familiar interface for your VMware Administrators to use.
Storage included. The VMware Cloud on AWS solution includes hosts and storage. The storage is vSAN powered which lets you choose failure and performance tolerances on a per VM or VMDK basis.
An enterprise solution. With a feature set on par with the Enterprise Plus licensing model, you gain access to enterprise features such as HA, vMotion, vSAN Storage Encryption and DRS for automatic VM placement and workload balancing between hosts.
But it's expensive?
If you are thinking this is all very expensive or complex to set up then you would be wrong. Consider not only purchase costs for hosts, storage networking and staffing but also the hidden costs of your on-premises infrastructure and those become very comparable to the VMware on AWS pricing, especially with reserved instances. When working out TCO, consider your existing costs (CAPEX and OPEX) for:
Licensing
Power
Cooling
Fire suppression & annual testing
Physical security
Upgrading
Monitoring
Management
Rackspace including datacenter room leasing costs
Disaster Recovery
Insurance
Pay as you go hourly, or reserved 1 or 3-year commitments and significantly reduced-cost reserve instances make this a compelling solution.
Further reading
To find out more about VMware Cloud on AWS, including TCO & pricing calculators, see the links below:
Tags :
VMConAWS
VMware Cloud on AWS
vmwonaws