Many VDI deployments suffer from slow performance for one reason or another.
Fortunately, VMware has a free tool that can optimise your VDI images for better performance: VMware OS Optimization Tool
Tool Features
The tool is feature-rich with many benefits:
Analyse and optimise VDI images locally and remotely
Save optimization history reports
Apply optimizations based on VMware and Public Templates
Create your own optimization Template
Export Analysis reports – Useful for submitting to change control systems
Which Operating Systems are Supported?
Almost every OS that you would use in your VDI images are supported:
Windows 7
Windows 8
Windows 10
Windows Server 2008 R2
Windows Server 2012
Windows Server 2016
Windows Server 2019
What Optimizations are available?
Each Optimization template included hundreds of Optimization opportunities. You can select all of them or a subset based on your business requirements.
Optimization Catagories include:
Visual
Notification
Windows Update
System Cleanup
Store Apps
Background
As an example, looking a the Visual Effect options, you can select them based on a quality vs performance trade-off: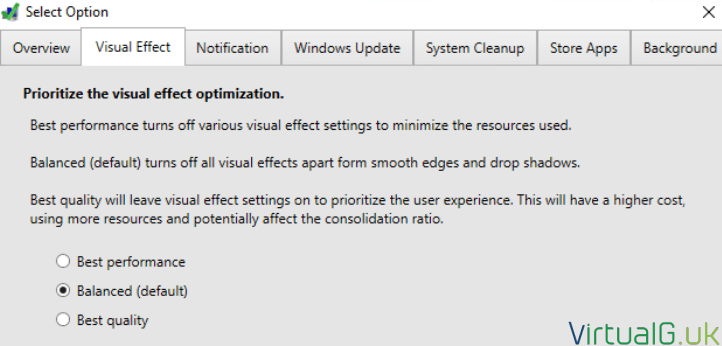 Using the tool
Running the tool is easy.
First, you need to select a template to apply to your image.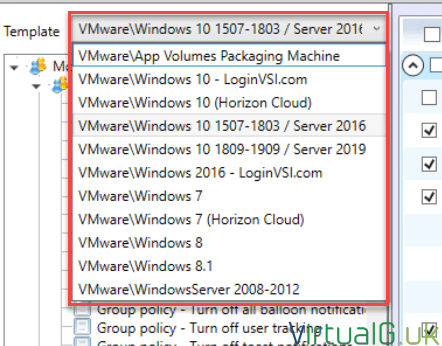 Next you run the analysis.
Once this is complete, you can see in graphical form how many optimizations are missing and what they are.


Results can also be exported to a .html file to be referenced in any change requests that you have to make within your business.
Once you are ready to proceed, simply hit the Optimize button to apply the suggested changes to the system.

And that's it!
Download the VMware OS Optimization Tool
You can download the tool here: https://flings.vmware.com/vmware-os-optimization-tool
Since it's a fling, it's not officially supported by VMware but you can comment on the fling page with any questions or issues you encounter. Comments are responded to quite quickly!
Tags :
Horizon Image
VDI Optimization