From time to time we all make mistakes. My latest one was to order way too many vExpert and vSAN stickers so I'm going to give them away!
Update 06.03.2017
All vSAN stickers are gone.
There are a few vExpert stickers left but they have a 1mm white line on the right edge that is hardly noticeable.
Due to really high demand can I ask that you gift me the postage fee if you live anywhere outside of Great Britain?
Just complete the form below and I'll post them out.
Each sticker is: White base –  Horizontal – 87 x 49 mm – Matt – Curved Edge
Click here to PayPal gift the postage fee back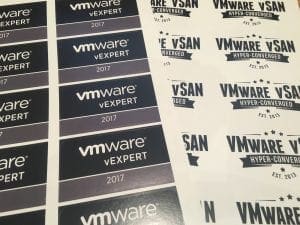 Click here to PayPal gift the postage fee back